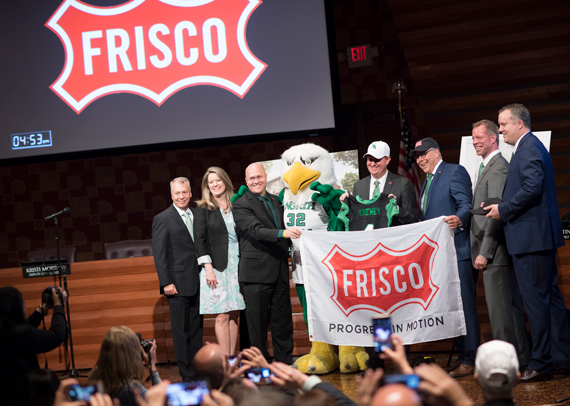 May 1, 2018
Dear UNT community,
This afternoon, our university took an historic step in creating a partnership with the City of Frisco to bring the excellence and innovation of UNT to the people, communities and businesses of Frisco and Collin County through what ultimately will be a 100-acre branch campus designed to serve at least 5,000 students.
As you know, UNT has offered excellent higher education opportunities in Collin County since 2010. And in 2016, we opened our doors in Frisco in response to the overwhelming demand of a community that is seeking convenient access to the highest-quality education from a partner dedicated to innovating what comes next.
Over the last two years we have hosted conversations that are shaping what UNT Frisco will become. This spring we hosted a visioning workshop and a Town Hall meeting. At the Town Hall meeting, nearly 130 faculty and staff members contributed ideas about opportunities to expand partnerships and serve Collin County moving forward. During that inspiring gathering we heard many ideas. Key among them is the fact that we want to be at the forefront of student learning, where partnerships are the defining feature of programs offered in Frisco. We are excited about this next phase as we continue to shape the future, defining our programs and plans for Frisco together.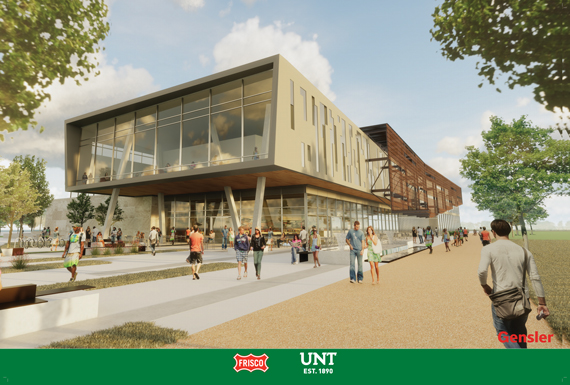 We will continue to offer programs at Hall Office Park, and in Spring 2019 we will expand operations at UNT's Inspire Park, a 50,000 square foot building on 4.8 acres adjacent to the new land that will be developed. UNT's Inspire Park will allow research and education collaboration with community and industry partners. To learn more about opportunities to engage in planning, visit the provost's website at https://vpaa.unt.edu/provost/initiatives/frisco.
The first phase of construction on the new land, located at the southwest corner of Preston Road and Panther Creek, will begin no later than March 2022. A masterplan to conceptualize the development of the initial 50 acres will begin right away in partnership with the City of Frisco and the Frisco Economic and Community Development Corporation Boards.
This is a bold - and some might say audacious - move, but still one that we know our university is more than capable of making a success. It's reminiscent of the idea that our founding father, J.C. Chilton, had more than 125 years ago when he set out to launch a school in Denton, partnering with area business leaders to open above a hardware store on the downtown square. UNT took that same can-do spirit to Frisco, and just as the Denton community embraced our vision, Frisco is embracing our vision for Collin County now.
We'll continue to create something extraordinary that preserves the deep values we have, but presents them in ways that inspire our students and moves them forward, while better supporting and serving the region − and ensuring that the employers of the region come to us before they go anywhere else.
Thank you for all you do to help us serve our students and make our great university a success.
UNT Proud,
Neal Smatresk
President

&nbsp
Jennifer Cowley
Provost