The 2020 Gallup survey, a tool to measure how we are doing in areas related to performance management needs, employee motivation and psychological commitment, will open Oct. 26 and close Nov. 6. This is the fourth year we have collected data from the survey, which can help improve the UNT experience for our faculty, staff and students.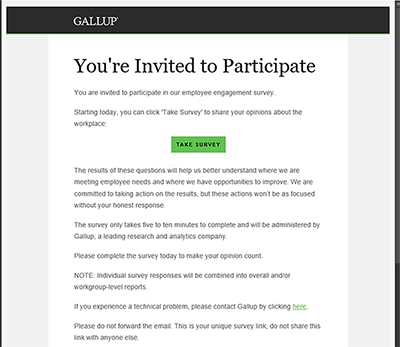 How Do I Access the Survey?
On Oct. 26, you will receive an email in your Outlook inbox from Gallup, with the subject line "[EXT] You're invited to participate."
Your email message will contain a link to the survey that is unique to you, so please do not forward it or share it with anyone else. The survey is completely confidential and only takes five minutes to complete.
What's New This Year?
Each employee will have faster access to the engagement results. As faculty and staff, you will be able to log in to the new Gallup Portal using the same sign-in information you use to access your employee portal.
The Gallup Portal will not only give you a snapshot of your area's score but will use an artificial intelligence feature to identify helpful resources pre-selected for you based on your department's results.
Additional Resources
If you would like to learn more about why we are partnering with Gallup to make engagement part of our UNT World culture, here are a few resources that explain who they are and what they do.
Our Gallup Engagement website has additional resources, such as FAQs, action planning, previous years' results and more.