UNT's Grounds Crew and Recruitment Marketing unit were recognized as Outstanding Departments at the President's Staff Sack Lunch on June 1. Congratulations to the hardworking staff in each unit that go above and beyond to propel UNT forward. Eight other units were nominated for the award. Read more about the ways these departments serve the UNT community, improve processes, exceed goals and help students thrive.
June 2022 Outstanding Department Award Winners
Grounds Crew, Division of Finance and Administration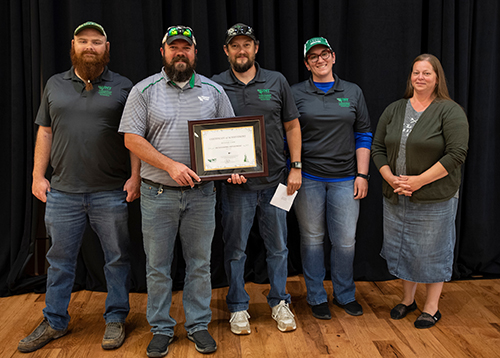 The Grounds Crew is often associated with the beautification of campus. Their landscape care has earned UNT Tree Campus USA recognition from The Arbor Day Foundation for 13 years running. But, the work of the Grounds Crew has an even greater impact. During the recent winter storms, they were the group sanding and scraping ice to make campus safe and walkable. As College of Music Dean John Richmond noted, they were "absolutely outstanding" in making sure sidewalks, streets and parking lots were cleared during the Graduate Audition Day in February 2022 so guests from around the world could visit and audition at UNT. They continue to show their dedication and problem-solving capabilities. Road construction on North Texas Boulevard meant a disconnection of irrigation systems, and they implemented a plan to plant flowers temporarily along the road, beautifying campus for commencement guests, until they can relocate the landscaping to other areas of campus. In all they do, they show a deep sense of caring and concern for UNT and our community.
Recruitment Marketing, Division of University Brand Strategy and Communications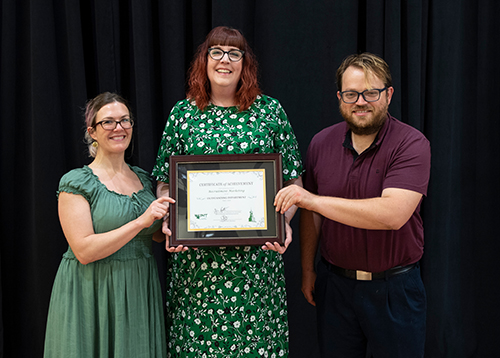 UBSC's Recruitment Marketing department is a key partner in the university's efforts to communicate with and market to prospective and current students. The department continuously works to improve its outreach efforts in email, print, video, social, web pages, etc. to ensure that UNT remains a leader in attracting larger applicant pools each year. The Recruitment Marketing department launched several new programs just in the past six months that are indicative of the work they do every month year in and year out. These initiatives include updating the virtual tour and online map and resources for students, with average viewing times on the pages and videos well above industry standard and helping to create a Spanish online "welcome center" that allows the families of Spanish speaking students to fully inform themselves about the UNT experience and the process for applying for admission, scholarships and aid. The department also integrated video into the viewbooks (using QR codes in print) that all prospective students receive, and led a collaborative group in the development of a pilot program for graduate program marketing that is seeing open rates up to 22% higher than industry standard. UBSC's recruitment marketing team works hard to help the university break enrollment and retention goals.
June 2022 Outstanding Department Award Nominees
Academic Resources, Division of Academic Affairs
Academic Resources is one of the hardest-working and most effective units within the Division of Academic Affairs. They manage faculty human resources, a task that involves a great deal of skill, diplomacy and attention to detail. The office also manages the extraordinarily complex budget needs and processes within Academic Affairs. Colleges and vice provosts' offices are remarkably heterogeneous, and have quite different needs in hiring, promotion and tenure, purchasing, financial needs, revenue sources and more. The office's help in preparing this year's budget document and cabinet presentation was indispensable. Our new CFO has in mind some important and appropriate changes, both practically and philosophically, in how we do budgets. This naturally creates a fair amount of concern from colleges, and occasional misunderstandings are an inevitable outcome. Academic Resources' help in communicating these new approaches has been masterful and critical to our ongoing work. Academic Resources has managed to produce consistently excellent outcomes despite considerable staff turnover during the past year. They make it look easy, but it is far from that.
Alumni Relations, Division of University Advancement
University Advancement's alumni relations staff increased their impact during COVID with their Alumni Live! Zoom meetings which showcased alumni in their careers. In fall of 2021, they held their inaugural volunteer board retreat, which re-invigorated volunteers. This two-day retreat taught board members how the alumni engagement activities build affinity and lead to future fundraising success. During the past nine months, the alumni staff have resumed live events in Dallas, Tarrant, Denton and Collin Counties, as well as Houston, Austin and San Antonio. In addition, they have partnered with UNT Athletics to host athletic tailgates prior to men's and ladies' basketball games, in addition to their Alumni Pavilion activities at each home football game, Coaches Caravans and away football game tailgates. Their function in Collin County at the Cowboys private club brought more than 100 new event attendees! The Mean Green Mania Fan Fest at the Frisco Bowl during the holidays hosted thousands and engaged over 100 volunteers who graciously gave their time and financial assistance. This is in addition to the Alumni Awards, Ring Ceremony, Dinner with a Dozen and many other annual activities produced centrally. With a staff of three programmers, hosting more than 100 in-person events has been an impressive effort to begin the post-pandemic recovery. Assisted by key staff in other areas (namely Advancement special events and leadership annual giving), this team puts blood, sweat and tears into all they do to keep the green and white — and the Mean Green spirit — alive and well with our alumni constituency.
CLEAR, Division of Digital Strategy and Innovation
The Center for Experimentation, Application and Research has transformed the past three years, raising the quality and quantity of UNT's online courses. The team increased its course development output from 35 per semester to 100 and those hosted on the Coursera platform have a 4.8/5.0 rating — one of the highest comprehensive scores achieved by Coursera's 170 university partners. Recently, members of DSI CLEAR were invited to present work on scalable and accessible virtual reality at a national conference. This research and other innovations in the educational technology space allow CLEAR to collaborate with and train faculty members to learn and adopt new pedagogical strategies that both modernize learning and increase knowledge transfer. And, Dr. Rudi Thompson, assistant vice president for DSI and executive director of DSI CLEAR, co-presented to the entire Dallas Cowboys coaching staff with Dr. Adam Fein, DSI vice president and chief information officer, on how learners learn online — coaching the coaches on digital learning. This session subsequently received national press attention for UNT.
Counseling and Testing Services, Division of Student Affairs
This team of amazing counselors and psychologists provided support and tools to our students as they navigated the challenges of COVID-19, like the changing learning environment, financial struggles and intense demands of attending college. The dedicated CTS staff stands ready to serve our students every single day. Whether it's an ear to listen, a group therapy session with others struggling with the same concern, a student in crisis, some much-needed art therapy, or a session with Buddy the therapy dog, the team has met our students where they are. Most days the staff go home tired and spent from the chaos of the work they do, but they return every day to help another student. Their vital work allows our students to be successful in and out of the classroom. While navigating the challenges of COVID, they continued to improve and even increase services for all students. They developed and implemented a new procedure with UNT PD to allow counselors to accompany students during the psychiatric hospitalization process; their physical space was redesigned to allow for the expansion of the waiting room and additional group therapy rooms; in January 2022 they sponsored the first Black Mental Health Week with over 300 participants and in October 2021 co-facilitated the second annual World Mental Health Day for the UNT community. This dedicated group of professionals is on the front lines of helping students succeed.
Environmental Health & Safety in RMS, Division of Finance and Administration
When Risk Management Services' Environmental Health & Safety team is doing their job well, you don't hear about their work at all. The Environmental Health & Safety unit keeps UNT compliant in areas such as lab safety, occupational health and food safety. Recently, the Texas Department of State Health Services gave the team one day's notice about a radiation safety audit. The auditors, known for being very discerning, were highly complimentary of our staff and expressed that UNT has a strong program. Despite some recent vacancies, this team pulls together to ensure UNT has the oversight needed to maintain safety while also supporting our university's community and research. They maintain more than a dozen training programs to help educate faculty, staff and students about safety procedures and collaborate with Facilities, faculty and other groups to continually support safety initiatives.
Registrar, Division of Enrollment
UNT is a student-centered institution, and the Registrar is one of the critical offices on campus with services used by every student during their academic career at UNT. At the height of the pandemic, the Registrar's office worked collaboratively with academic areas and space management on scheduling courses and classrooms for remote delivery throughout the 2020-21 academic year while ensuring compliance with awarding credit hours and reporting course enrollment. They also Implemented the QLess online appointment scheduler for in-person and virtual appointments, ensuring they would continue to be available to our students. The services provided, and the manner in which they are provided, are essential to our enrollment and retention numbers. This past year the Registrar's office implemented a number of new processes and enhancements to help ensure our students are successful. For example, they successfully transferred all of their forms to fillable pdfs to be available to submit electronically and provided "How to…" charts on their website. They updated the add process to allow advisors to register students directly if an advising hold was the only block in processing a late add. This allows students quicker class participation. The Registrar's office also implemented Courseleaf to produce the schedule of classes for each semester. This tool allows academic departments to build schedules visually and more strategically. These are just a few of the many improvements and changes that have been implemented to ensure quality service to faculty, staff and students.
Special Projects, Division of Student Affairs
Throughout COVID-19, DSA's Special Projects department stepped up time and time again to be sure students received the care and support they needed while having to isolate/quarantine due to COVID. The three-person department coordinated the Student Outreach Campaign to ensure that all undergraduate students received a personal phone call prior to the end of the spring semester in 2020. For the past two years, they coordinated the review and awarding of the COVID-19 Student Success Award & COVID-19 CARES Act Award. Last summer, they coordinated and ran the Vaccine Incentive Program, which involved hundreds of hours of work, many of those in the evening and weekends. They also managed the mandatory and voluntary interval COVID testing periods. The staff also personally coordinated with UNT Housing and other departments to be sure that every student who needed to quarantine had a safe place to be and then provided emotional and academic resources as well. The COVID-19 pandemic brought out the best qualities in many of our staff, and Special Projects is a prime example of that. Their dedication to making sure our students were cared for and supported in every possible way is nothing short of heroic and most deserving of recognition.
University Admissions, Division of Enrollment
University Admissions is the first experience our students have with UNT. They continue to develop improved, strategic, more efficient business processes to recruit quality students and streamline processing. This collaborative division effort led to an increase of 26% in overall applications and an increase of 15% of admitted students for fall 2021 compared to the previous year. As a result, UNT was able to see a record FTIC class of 5,533 in Fall 2021 and set an overall enrollment record with 42,372 students. Currently, Admissions is working on the Fall 2022 recruitment cycle, and international admissions have played a large part of that. At this time last year, Admissions had processed 7,200 international graduate applications. This year they have processed over 16,600 international graduate applications. That is a 130% increase over this point in time last year. Admissions continues to create a strong online presence through social media recruitment. They have used text messaging to help shepherd students through the funnel, having had over 73,000 text message interactions with students for the Fall 2021/22 enrollment cycle. Their work does not end there. UNT always has a new class to bring in, and recruiters are actively engaging prospective students. As a result, overall applications are up 38% and admitted students are up 20%. University Admissions continues to work tirelessly to recruit quality students to UNT, using top recruiting tools, programs and initiatives — proving UNT is the university of choice!