Sept. 8, 2023
­Three areas across the university received Outstanding Department Awards at the President's Staff Sack Lunch on Sept. 7, and eight others also were nominated by their vice presidents. Read about the work of each winning area and nominee.
Outstanding Department Award Winners
Business Operations Training, Division of Integrity and Compliance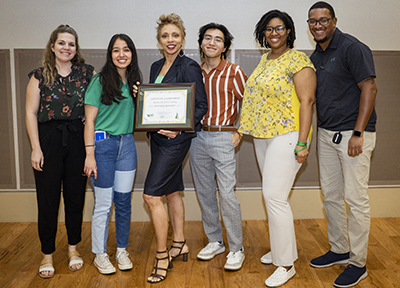 This team manages learning across multiple UNT System Enterprise agencies. They are responsible for managing and assisting in the compliance, development and delivery of professional training initiatives that foster growth and change. They focus on ensuring employees have the tools needed to maximize learning that will produce results. Their accomplishments include merging Bridge platforms to streamline records and improve employee experiences, and partnering with others to eliminate duplicate training software and manage training roll-out. They also manage automated training reports and ensure state laws and UNT policies are followed, and their virtual helpdesk serves thousands of employees.
Financial Aid and Scholarships, Division of Enrollment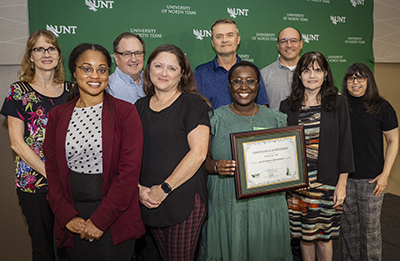 This area continues to improve practices and gain efficiencies that keep the university moving forward. They updated processes to enable disbursement of the federal Pell Grant for part-time students to begin 10 days before the start of the term and implemented a new aid and scholarship packaging model, allowing UNT to take advantage of external funds while leveraging institutional dollars, to achieve a higher yield with lower expense. They also improved communication to students and streamlined the Satisfactory Academic Progress (SAP) procedures process. These achievements and others contributed greatly to UNT's record enrollment in fall 2022 and set us on track for a record enrollment this fall.
Office of Disability Access, Division of Student Affairs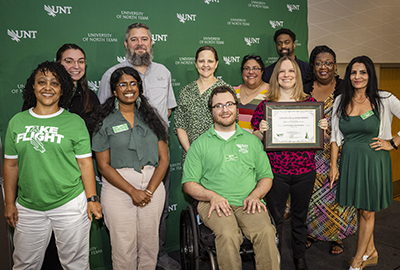 The office supports students daily in order for them to be successful both inside and outside the classroom. The number of students seeking accommodations has increased significantly over the past few years, and the ODA team never loses sight of the impact they have on a student's ability to complete their degree. Without their work, many students would be overwhelmed in navigating the accommodations process and advocating for themselves and their needs. The team becomes the voice for students, while guiding them to be confident when communicating with faculty or staff to ensure that their needs are met.
Outstanding Department Award Nominees
Admissions, Division of Enrollment
In fall 2022 the university once again enjoyed its highest enrollment ever (44,532 students), fueled by its largest incoming graduate and freshman classes in history, and the university is on track for a new record in fall 2023. To continue to attract these suspects and prospects in today's market, Admissions has had to be creative and strategic in their efforts to seek them out. These efforts can be seen in every event, recruitment fair, campus tour, streamlined process and collaboration. Recruiters attended more than 600 separate events or recruitment fairs and more than 15,000 people were welcomed to campus for a tour. The team sent more than 124,000 text messages to students reminding them to complete their to-do lists and register for their classes. As a result, fall 2023 saw a 22.8 percent increase in admission applications and 10.3 percent more students admitted overall. Admissions continues to work to recruit quality students, making UNT the fastest growing university in the state.
Department of Anthropology, Division of Academic Affairs
This department in the College of Liberal Arts and Social Sciences has implemented many initiatives to attract and retain students. It hosts the Applied Anthropology Expo on campus each year, drawing hundreds of people and showcasing what anthropology students, faculty and alumni do. The First-Gen Besties program pairs senior first-generation anthropology majors with incoming first-generation majors during the first week of the semester to help new students learn and succeed at UNT. The Padawan Project partners undergraduate anthropology majors with graduate students to promote and support graduate study and provide a community in which they're empowered to engage graduate students and faculty to help plan out their future. The Student/Faculty Liaison represents and advocates for undergraduate students. Lucky's Little Library promotes faculty publications, student access to new anthropology resources and a comfortable environment for students to work and get to know other students, faculty and staff. Add in the annual kickball game between faculty and students, and it's easy to see why the department has one of the most engaged student majors on campus.
Dining Services, Division of Student Affairs
This year has been a golden year for Dining Services. The department won two NACUFS Loyal Horton Gold Awards for outstanding programs in resident dining and catering, one Loyal Horton Silver Award for retail dining and one Loyal Horton Grand Prize for catering. These awards and the four Gold Medals at the UMASS Amherst Culinary Conference make 2022-23 the most successful year in history for UNT Dining in competition. For the first time, Dining Services was rated the No. 1 dining program in Texas through NICHE.com. The department opened Einstein Bros Bagels and the Market at Eagle Landing and was able to keep meal plan costs below the eight major competitor schools in Texas. They also hosted the Menus of Change A University Research Collaborative Conference and were critical components of the NACAS South Conference. They're leaders in their profession, look for creative ways to be innovative and collaborative in their dining operations and strive to create a sense of belonging and respect for the different experiences that people bring to the table.
DSI Digital Growth, Division of Digital Strategy and Innovation
This department is responsible for building and growing the UNT Online brand and helping students connect with a world-class education wherever they are. The department created and maintains the online.unt.edu website and created a microsite for every UNT online program, certification or credential. Maintaining current and relevant information for more than 80 programs requires close collaboration. The team also added an API plug-in feature to each academic program microsite page that allows prospective students to see real-time information about companies currently hiring and job titles — easily filtered by zip code. According to Google Analytics data, with more than 3.5 million page views, 1.4 million sessions and 1.08 million users since DG created the site just over three years ago, online.unt.edu is among the top 10 most trafficked sites at UNT and among the top three academic sites. More than 36,000 students have completed the online program requests for information. DG's digital marketing campaigns have doubled the number of program-level leads in the last year, and data suggests online.unt.edu is a first-touch portal for prospective students who go on to enroll in face-to-face programs.
DSI Tech, Division of Digital Strategy and Innovation
When COVID hit and the world seemed to shift overnight, the staff at DSI Tech (formerly known as Classroom Support Services) stepped up to help with the huge lift to digitize critical services known as teaching and learning. They not only helped faculty, staff and students in Denton but also faculty, staff and students at the UNT Health Science Center and UNT Dallas. The demand for digital teaching/learning solutions has stayed very high and the team jumped straight into digital upgrades on the physical campuses, such as better lecture-capture cameras, higher quality microphones and video infrastructure upgrades). The team has pushed hardware upgrades to hundreds of classrooms and class labs throughout the summer, further ensuring the UNT community could come back to campus this fall and enjoy the conveniences of modern classrooms. In addition, they lead efforts to acclimate instructors in the new Frisco Landing space as well as welcome new faculty to the Denton campus.
Police Support Services, Division of Finance and Administration
The UNT Police Department's Support Services unit includes staff who often work behind the scenes to support campus safety. The department is accredited by two different organizations that expect adherence to more than 400 best practice standards. The unit also includes police substations at Discovery Park, CVAD after hours and Frisco. The police and public safety officers, who are often students, respond to the specific needs of those areas so that community members there do not have to wait for a campus police response. Also, with more than 1,600 hours of training for new recruits and 80-plus hours for police officers, this unit is tasked with ensuring that police at UNT have knowledge of skills, such as responding to an active shooter, and professional growth, such as de-escalation exercises. Although they may not be seen as often as police officers on patrol at the main campus, this group supports the department and ensures it is responding properly to the needs of UNT students, faculty and staff.
Risk Management Services' Insurance and Claims, Division of Finance and Administration
This area oversees 20 lines of insurance for the entire UNT System. Throughout all campuses, this team of only four staff members manages assets of $5.5 billion. No matter what work you do, their team will very likely impact you in some way. They oversee worker's compensation for those who are injured at UNT and help with insurance coverage for Mean Green student-athletes. They were the primary contact if ice storm damage impacted your work equipment or personal items. The team helps with verifying driver eligibility for those who drive a UNT work vehicle, such as a golf cart. They also help with travel insurance for those sharing their expertise or learning for work or school experiences. The experts in this area work with student organizations and departments across campus to consult on risk-related topics and ensure that insurance contracts offer the coverage needed to support the safety of our entire UNT System community.
University Centers and Events, Division of Student Affairs
The Coliseum/Gateway Center staff is a 15-member team that manages all events in both facilities and handles all of the custodial needs for both buildings. Many times that means working evenings and weekend hours to cover event needs and ensure that the best customer service is provided for each client. Whether it's a basketball game, cheerleading competition, orientation, church service, banquet or commencement ceremony, the team comes together to create positive and memorable experiences. While for some teams May is a light month, for the Coliseum team, it's the busiest month of the year. In the month of May, the team worked 39 graduations in 17 days, serving over 182,000 people. They cover both the front-of-house and behind-the-scenes work on a regular basis in service of the university.