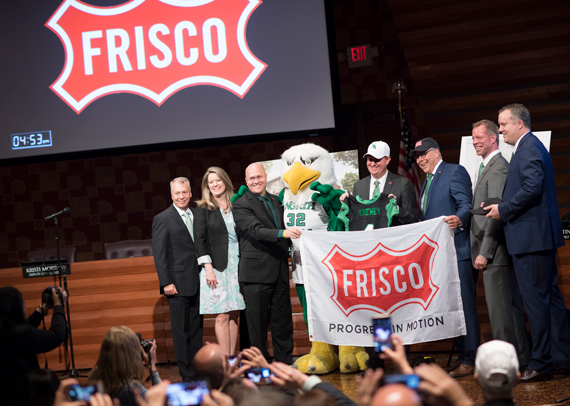 Unanimous approval of a new 'public-public' partnership between the City of Frisco, its Frisco Economic and Community Development Corporations and UNT makes way for what will ultimately be a branch campus to serve at least 5,000 students, providing higher education and research opportunities for future generations.
Top Announcements
Join the Alumni Association:
Dues help your alma mater provide scholarships to students and outstanding programs for alumni.
Join or renew now.
Deck your ride with Mean Green pride:
Order a UNT-themed license plate through the Texas Department of Motor Vehicles to flaunt your North Texas pride everywhere you go.
Order your plates.
Mean Green basketball season tickets on sale now:
Don't miss a minute of Mean Green men's and women's basketball at the Super Pit this season!
Get tickets.
Alumni services
Services
Find a job, make a career advising appointment, attend professional development events or become a mentor to UNT students
Continuing Education
Designed for fun and intellectual development (learning simply for the joy of learning), the Emeritus College provides an extensive range of classes, travel programs and social activities for adults age 50 and older.

Educational trips to locations around the world led by UNT faculty members and other expert guides.
Stay connected
Show your Mean Green pride by getting involved and staying connected.
UNT Alumni Association
Keeping up with other UNT alumni
Invest in UNT's Future Alumni
Be a presenter, panelist or mentor in UNT student programs (e.g., industry-specific networking events, career days, skill/knowledge-development workshops, company presentations, etc.).
Giving to UNT
There are many ways to give to UNT from funding scholarships, to supporting faculty and academic programs. And there are many reasons why you should give, helping students earn their education...