Faculty and Staff Resources
Right degree. Right here. Right now.
With three locations in and around Frisco (Hall Park, Inspire Park and at the Collin Higher Education Center), UNT offers undergraduate and graduate degrees that are convenient, flexible and seamless to help you advance to the next level. Explore your degree options at frisco.unt.edu.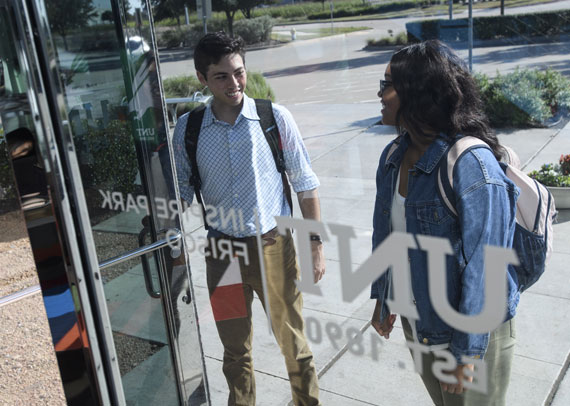 Top Announcements
Reporting sexual misconduct under new state law.
Employees of public and private higher education institutions are required to report sexual misconduct they are aware of, and the university is required to terminate any employee who is found to have failed to meet that requirement.
Learn more.
PeopleAdmin system being upgraded.
The first two modules were launched Dec. 1. Training at UNT continues into December.
Find out more.
UNT's Youth Protection Program formed.
Faculty, staff, campus groups and departments that organize or sponsor events for non-students under 18 on campus, or participate in UNT-sponsored programs off campus, are required to work with the new program.
Learn more.
Working at UNT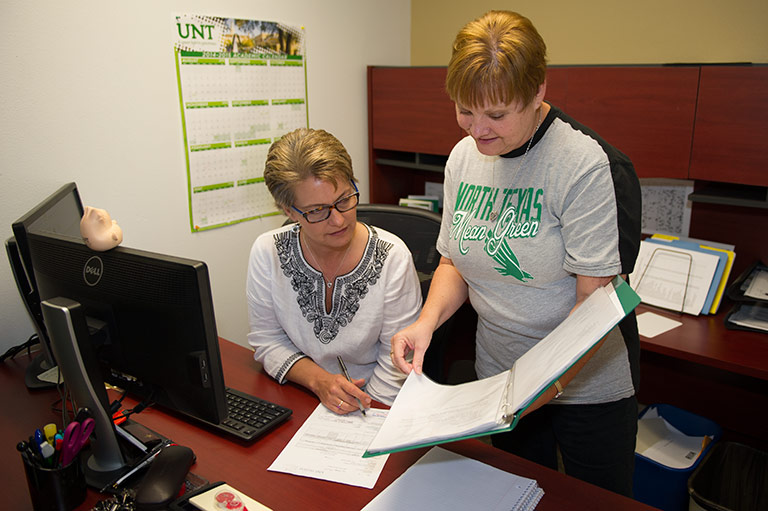 Careers at UNT
One of the nation's largest public universities, UNT offers a diverse work environment for faculty, staff and students to pursue creativity. Explore our many career opportunities and discover why Forbes ranked us 7th in the nation in the education category and overall 4th in Texas and 40th in the nation as one of America's Best Employers.
Top News
UNT Communication Studies professor receives Coger Award from National Communication Association
UNT receives Insight Into Diversity 2019 Higher Education Excellence in Diversity (HEED) Award
Event Calendar
There are no events to display.
Deadlines
There are no deadlines to display.
Obituaries
James Andrew Roberts
James Andrew "Jim" Roberts, 87, of Sanger, who taught physics at UNT for more than 50 years, died Nov. 7. As a professor of physics, he was still serving on the faculty at UNT and said he continued to teach into his 80s because he enjoyed working with students. He was an advocate for helping public school teachers receive the training and tools they needed to better teach science and mathematics, and he founded and served for more than 30 years as project director for UNT's Collaborative Group for the Texas Regional Collaboratives for Excellence in Science Teaching.
Janet Koch Ellis
Janet Koch Ellis ('74 M.A., '81 Ph.D.), 89, of Denton, Professor Emerita of behavior analysis, a program she was instrumental in developing at UNT, died Oct. 28. In her 30 years at UNT, she worked closely with many students in her lab, and her published lab work results led to some of the first reports on functional analysis in public schools in the world. A Celebration of Life will be held at 1 p.m. on Dec. 14 at her home.
Horace Brock
Horace Brock, 92, Professor Emeritus of accounting and one of the driving forces in building the national reputation of UNT's accounting program, died Oct. 26 in Denton. Known globally as the premier expert in oil and gas accounting, he taught at UNT from 1954 to 1991. He and his late wife, Euline Brock ('74 Ph.D.), were strong supporters of the university. A memorial service is scheduled for 11 a.m. Nov. 2 at St. Andrew Presbyterian Church, 300 W. Oak Street in Denton. The family encourages people attending between Homecoming activities to wear "Mean Green" apparel.
Maliyakal 'Jay' Jayakumar
Maliyakal "Jay" Jayakumar, 62, of Denton, associate professor of information technology and decision sciences, died Sept. 11 in Kochi, India. He began working at UNT in 1994, teaching business statistical analysis and management science courses, and was a member of the Decision Sciences Institute and the Institute for Operations Research and Management Science.
Clay Douglas Rivenbark Jr.
Clay Douglas Rivenbark Jr., 62, of Dallas, an adjunct professor in the Mayborn School of Journalism, died Sept. 5. He taught applied design at UNT. He had a 35-year career in graphic design that included working as an owner and creative director of M2 Design; teaching at the Rocky College of Art and Design in Denver; and serving as School of Design coordinator for the Art Institute of Dallas.
James W. 'Bill' Giese
James W. "Bill" Giese, 94, Professor Emeritus of accounting, died Sept. 5 in Denton. He taught at UNT from 1966 to 1985 after working at the University of Texas and Idaho State University. After retiring from UNT in 1985, he was active in the Denton community as a member of many city, school and organization boards and committees.
Jerry Dake
Jerry Dake, 80, a longtime employee in the G. Brint Ryan College of Business, died Aug. 28 in Denton. Since 2001, he served in numerous positions, including executive lecturer and managing director of the Center for Quality and Productivity, executive director and director of the Center for Decision and Information Technologies, and senior lecturer for the Department of Information Technology and Decision Sciences. The family will receive friends from 4 to 6 p.m. Sept. 2 at DeBerry Funeral Directors in Denton.
Richard Alexander Harris Jr.
Richard Alexander Harris Jr. ('62), 79, former UNT associate vice president for computing and UNT System chief technology officer, of Denton, died Aug. 4 in Sparta, Ill. During his 43 years at UNT, he was instrumental in creating and leading computing and technology services. Visitation will be from 1 to 3 p.m. Aug. 14 at the Mulkey-Bowles-Montgomery Funeral Home, 705 N. Locust, in Denton. A Celebration of Life is scheduled from 4 to 8 p.m. Aug. 14 at Denton Country Club, 1213 Country Club Road, in Argyle.