Faculty and Staff Resources
Right degree. Right here. Right now.
With three locations in and around Frisco (Hall Park, Inspire Park and at the Collin Higher Education Center), UNT offers undergraduate and graduate degrees that are convenient, flexible and seamless to help you advance to the next level. Explore your degree options at frisco.unt.edu.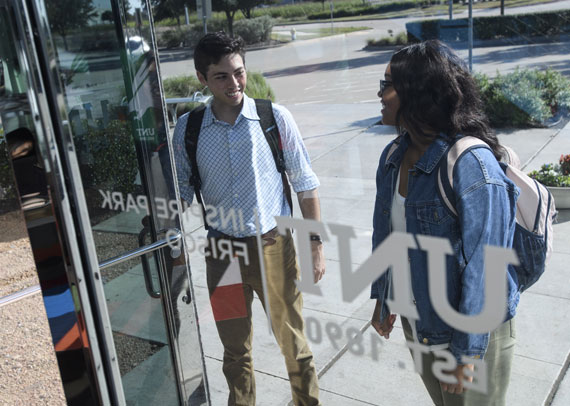 Top Announcements
Mean Green Gowns for Grads accepting donations.
You can donate gently used caps and gowns or make a monetary donation.
Find out more.
UNT System switching to J.P. Morgan Chase Bank.
For now, the Wells Fargo ATM and bank located inside the University Union will remain.
Learn more.
Working at UNT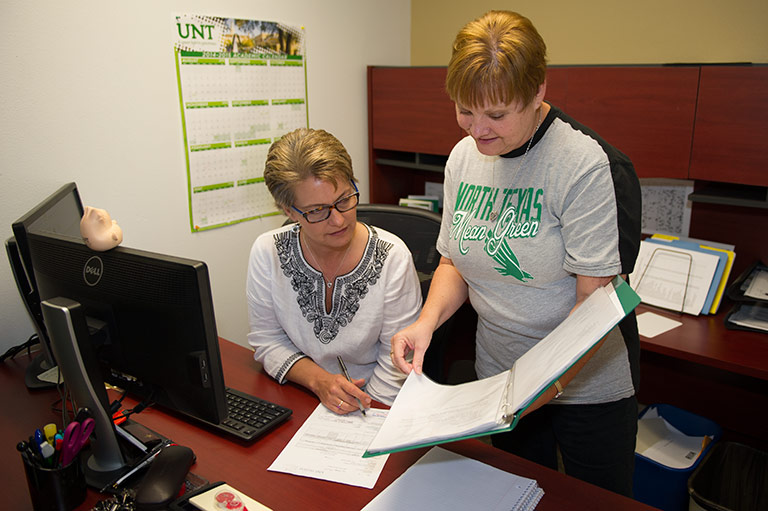 Careers at UNT
One of the nation's largest public universities, UNT offers a diverse work environment for faculty, staff and students to pursue creativity. Explore our many career opportunities and discover why Forbes named us one of the Best Mid-size Employers in the U.S. with more than 1,000 employees.
Deadlines
There are no deadlines to display.
Obituaries
Don Cleveland
Professor Emeritus Don Cleveland 83, of Denton, died April 17. During his time at UNT from 1977 to 2004, he was a strong proponent of technology for information sciences. He created one of the earliest computer labs and encouraged his students to use technology and conduct research. He also developed the interdisciplinary Ph.D. program in information science and brought the program to Houston.
A memorial service is planned for the fall.
Russell Lee Welch
Russell Lee Welch, 75, senior lecturer in the Department of Finance, Insurance, Real Estate and Law, died April 19 in Denton. He first taught at North Texas from 1983 to 1988, when he left to open a law practice. He came back as a part-time lecturer in 1997 and became a full-time senior lecturer in 2013. He taught courses on the legal and ethical environment of business, corporation law, international law, and logistics and aviation law. He also served as the announcer at the G. Brint Ryan College of Business commencement ceremonies.
Caroline Booth
Caroline Booth ('14 M.P.A), 42, former director of communications and marketing for UNT Libraries, died March 24 in Denton. She was director of advancement at Cumberland Presbyterian Children's Home in Denton and communications specialist at the Noble Foundation in Ardmore, Oklahoma, before working at UNT from 2011 to 2014.
Services will take place at 2 p.m. March 29 at St. Andrew Presbyterian Church, 300 W. Oak St.
Laura Bruton
Laura Bruton, 59, who served as an adjunct professor of viola at UNT for several semesters between 2007 to 2014, died March 17. She was the principal violaist for the Fort Worth Symphony Orchestra from 1988-2019 and also performed with many of North Texas' chamber music groups, as well as orchestras around the country. She is survived by her husband, Donald Little, Regents Professor of Tuba at UNT; daughter, Grace Little ('18); and sons Nathan Little and Oren Bruton.
A Celebration of Life will take place from 2 to 4 p.m. Saturday, April 6 at The Village Church in Denton.
David B. Kesterson
David B. Kesterson, 81, died March 12. Kesterson served as provost and vice president for academic affairs among his many positions in nearly four decades of service to UNT. He is survived by his wife, Cheryl, and sons Aubry ('89, '89 M.S.) and Chad ('98).
Kesterson's memorial service will take place at 11 a.m. March 30 at DeBerry Funeral Directors. Memorials in his name may be made to the Department of English or the College of Music.
Tony D. Lewis
Tony D. Lewis, 76, died Feb. 27. He worked for Moore Business Forms in Denton and for National Cash Register in Arlington before working at UNT from 2002 to 2006. He was a member of the Knights of Columbus and the UNT Retiree Association He is survived by his wife, Maria Graciela "Chelita" Lewis.
Visitation is from 6-7 p.m. March 4 at DeBerry Funeral Directors, with rosary at 7 p.m. Mass will be at 1 p.m. March 5 at Immaculate Conception Catholic Church, with internment at Roselawn Memorial Park.
Kelly Davis Kucharski
Kelly Davis Kucharski ('04), 40, died Jan. 11 in Denton. She had worked as an office support associate in UNT's Student Money Management Center. Kucharski earned her bachelor's degree in sociology and took classes for a second degree in ecology in environmental science. She was a Maryland native who loved Denton, Asian cuisine, seafood, books, bees, cooking, painting, gardening and spending time with her family, including her three dogs. She was married to Brian Kucharski ('99), who works in University Relations, Communications and Marketing at UNT.
Andy Knapik
Andy Knapik, door systems supervisor, died Jan. 21. Knapick was a devoted family man, fostering five children and adopting three children. He was a founding member and vice president of the Denton Music and Arts Collaborative and a volunteer for the Denton Music Festival. Knapik was a UNT Alumni Association Member, a Cleveland Browns fan, an artist, carpenter, a notary public and frequent wedding officiant.
Family visitation will take place from 2 to 4 p.m. Jan. 27 at DeBerry Funeral Directors in Denton, with a pot-luck reception following from 5 to 7 p.m. at Dan's SilverLeaf. A mass will take place at 11 a.m. Jan. 28 at Immaculate Conception Catholic Church in Denton.
Martin Schwartz
Martin Schwartz, Regents Professor of chemistry, died Dec. 26. Schwartz was known for his expertise in molecular dynamics and thermochemical properties of molecules. He published more than 125 refereed scientific papers and was a mentor for many undergraduate and TAMS students.
Memorial services will take place at 1 p.m. Jan. 13 at DeBerry Funeral Directors in Denton.
Larry Austin
Larry Austin, Emeritus professor of music who was a world-renowned composer and served as director of the Center for Experimental Music and Intermedia, died Dec. 30. He was known for his compositions via computer, and his works garnered the praises of The New York Times, an appearance on TV with the New York Philharmonic under conductor Leonard Bernstein and a performance that he conducted at Carnegie Hall at age 82. He was the first American to win the magistere at the International Electroacoustic Music Competition.
Rosary will at 6 p.m. Jan. 3, followed by family visitation until 8 p.m., both at Bill DeBerry Funeral Directors in Denton. Mass will be at 10 a.m. Jan. 4 at St. Mark Catholic Church in Argyle, with interment to follow at Roselawn Memorial Park in Denton.
Roddy Wolper
Roddy Wolper, former news director for UNT, died Oct. 10 in Denton. He worked at UNT from 1999 to 2007 as associate director of University Relations, Communications and Marketing and director of news and information. He did everything from serving as spokesman for breaking news stories to writing articles for The North Texan. He was noted for his ability to see things objectively, even writing poetry about current events, and was a mentor to others in the department.
A reception will take place from 2 to 4 p.m. Oct. 21 at Bill DeBerry Funeral Home, 2025 W. University Drive in Denton.
Euline Brock
Euline Brock, ('74 Ph.D.), 86, the former mayor of Denton who was one of UNT's most active supporters, died July 1 in Denton. The Euline and Horace Brock Grand Lobby in the Murchison Performing Arts Center bears the name of Brock and her husband, Horace for their contributions.
In lieu of flowers, the family encourages donations to the Denton African American Scholarship Foundation or the Endowment for Strings at UNT.
Shailesh Kulkarni
Shailesh Kulkarni, 48, of Denton, professor of business analytics in the Department of Information Technology and Decision Sciences, died July 6. He had worked in the College of Business since 1999 and was named a full professor in 2016. He was the curriculum coordinator and curriculum committee chair for the department's master's degree programs.
Services will take place from 4:30 to 7 p.m. Thursday, July 12, at Flower Mound Family Funeral Home, 3550 Firewheel Drive in Flower Mound.
Steven Ross Thompson
Steven Ross Thompson, 34, of Denton, senior food service manager for catering, died July 8 in Denton. Steven, who was a psychology major at UNT from 2004 to 2008, worked his way up from dishwasher as a student employee worker in 2004 to chef garde manger (pantry chef) for UNT Dining Services. He mentored other workers, and his food was known for its beauty and deliciousness. He enjoyed spending time with his family, especially in at his parents' home in the East Texas Piney Woods. Services will be held at 10 a.m. Friday, July 13, at Rader Funeral Home in Longview.