Faculty and Staff Resources
Working at UNT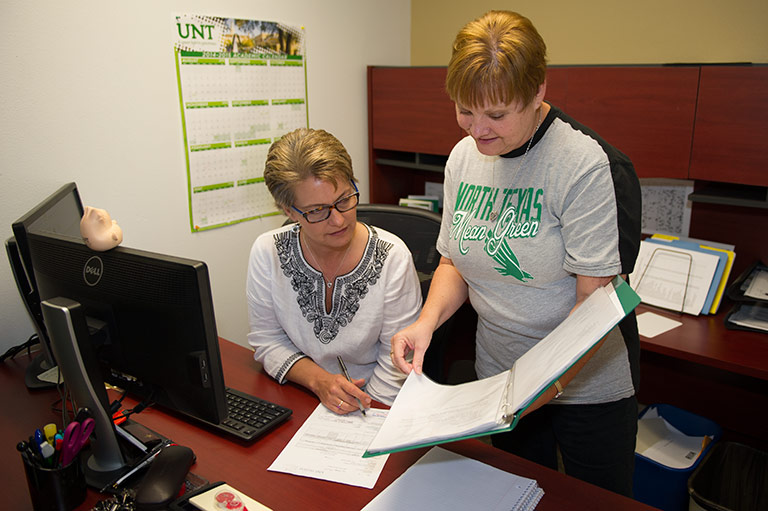 Careers at UNT
One of the nation's largest public universities, UNT offers a diverse work environment for faculty, staff and students to pursue creativity. Explore our many career opportunities and discover why Forbes named us one of the Best Mid-size Employers in the U.S. with more than 1,000 employees.
Top News
UNT on the Square exhibition, inspired by class project, highlights Denton's first settlement of freed...
UNT on the Square exhibition, originally inspired by class project, highlights people of southeast Denton
Deadlines
There are no deadlines to display.
Obituaries
Howard Smith
Howard Smith, 88, whose 36-year career at UNT included serving as professor, dean of the College of Education and interim president and chancellor, died Dec. 29 in Denton. Funeral services are at 2 p.m. Thursday, Jan. 4, at St. Andrew Presbyterian Church in Denton. Interment will follow at Roselawn Memorial Park.
Smith was nationally recognized for his work in the improvement of teacher education and higher education. In the 1960s he made news with a micro-teaching laboratory, developed with colleague Louise Allen, to observe student teachers as they conducted class. He served as the UNT College of Education's first associate dean from 1969 to 1976, as acting dean from 1972 to 1973 and as interim dean from 1995 to 1997. He became associate vice president for academic affairs in 1976 and was promoted to vice president in 1980. In 1981, he served as ad interim president and chancellor while the university worked to fill the position. In 1994, he received a UNT Citation for Distinguished Service to International Education, one of his many honors.
Edward Mattil
Edward Mattil, 99, Professor Emeritus and former chair of the art department who helped establish the Texas Fashion Collection, died Dec. 19.
Mattil served as the dean of fine arts at St. Cloud State University before coming to North Texas, where he taught from 1971 to 1985. As the art department chair, he helped bring the collections of the Dallas Museum of Fashion to campus as the Texas Fashion Collection in 1972, and later established the Industrial Training Laboratory, which he served as director. He was a member of the President's Council and the 1890 Society for his commitments to The Edward and Betty Mattil Scholarship and the Betty Marzan Mattil Scholarship.
He asked that those wishing to honor his memory perform an act of kindness.