Faculty and Staff Resources
Right degree. Right here. Right now.
With three locations in and around Frisco (Hall Park, Inspire Park and at the Collin Higher Education Center), UNT offers undergraduate and graduate degrees that are convenient, flexible and seamless to help you advance to the next level. Explore your degree options at frisco.unt.edu.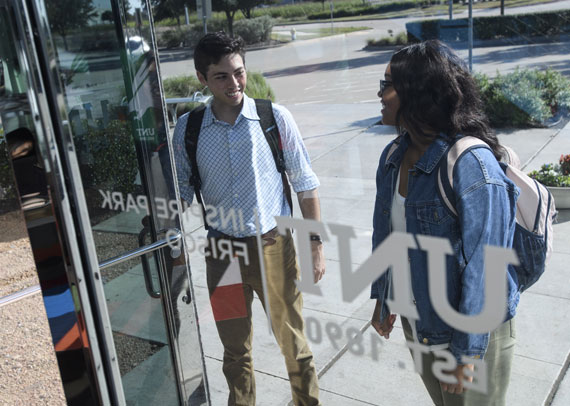 Top Announcements
Reporting sexual misconduct under new state law.
Employees of public and private higher education institutions are required to report sexual misconduct they are aware of, and the university is required to terminate any employee who is found to have failed to meet that requirement.
Learn more.
Lynda.com becomes LinkedIn Learning.
The online learning and professional development tool remains free to UNT System faculty and staff.
Read about the new features.
Workshop proposals and internal sponsorships are being accepted for the UNT Equity and Diversity Conference.
Campus sponsors who commit by Friday, Sept. 20, will have an opportunity to help select workshop presenters. The conference will celebrate its 20th year Thursday, Feb. 20, 2020.
Read more.
Working at UNT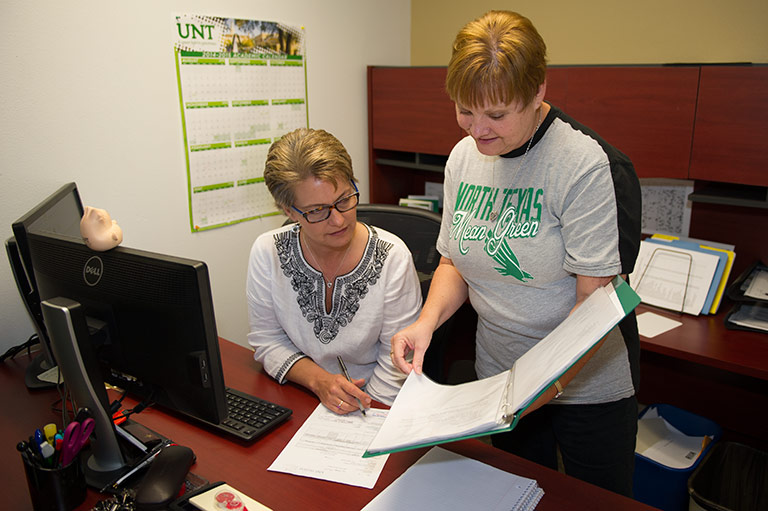 Careers at UNT
One of the nation's largest public universities, UNT offers a diverse work environment for faculty, staff and students to pursue creativity. Explore our many career opportunities and discover why Forbes ranked us 7th in the nation in the education category and overall 4th in Texas and 40th in the nation as one of America's Best Employers.
Top News
UNT partners with Consulate General of Mexico in Dallas to create education opportunities for Mexican...
Deadlines
There are no deadlines to display.
Obituaries
Jerry Dake
Jerry Dake, 80, a longtime employee in the G. Brint Ryan College of Business, died Aug. 28 in Denton. Since 2001, he served in numerous positions, including executive lecturer and managing director of the Center for Quality and Productivity, executive director and director of the Center for Decision and Information Technologies, and senior lecturer for the Department of Information Technology and Decision Sciences. The family will receive friends from 4 to 6 p.m. Sept. 2 at DeBerry Funeral Directors in Denton.
Richard Alexander Harris Jr.
Richard Alexander Harris Jr. ('62), 79, former UNT associate vice president for computing and UNT System chief technology officer, of Denton, died Aug. 4 in Sparta, Ill. During his 43 years at UNT, he was instrumental in creating and leading computing and technology services. Visitation will be from 1 to 3 p.m. Aug. 14 at the Mulkey-Bowles-Montgomery Funeral Home, 705 N. Locust, in Denton. A Celebration of Life is scheduled from 4 to 8 p.m. Aug. 14 at Denton Country Club, 1213 Country Club Road, in Argyle.
Anna Ricco
Anna Ricco, of Carrollton, a longtime supporter of UNT, died June 1. She served on UNT advisory boards for the College of Music, the Mayborn School of Journalism and the G. Brint Ryan College of Business alongside her husband, Nicholas Ricco Sr. ('61).
Nicholas D. Ricco Sr.
Nicholas D. Ricco Sr. ('61) a longtime supporter of UNT, died May 4 in Plano. He served on advisory boards and contributed to the College of Music, the Mayborn School of Journalism and the G. Brint Ryan College of Business, where he is a member of the Hall of Fame. He also contributed to Emerald Eagle Honors and other programs, and was among the first financial supporters of the Mayborn Literary Nonfiction Conference. With his wife, Anna, he mentored hundreds of UNT students through the years, was a member of the McConnell Society and created UNT's Ricco Ethics Scholarship competition in 2011. In 2015, he was awarded the prestigious Mayborn Medallion for his commitment to his alma mater. The Cmdr. Nicholas and Anna Ricco Music Dean's Suite was dedicated in 2018.
Don Cleveland
Professor Emeritus Don Cleveland 83, of Denton, died April 17. During his time at UNT from 1977 to 2004, he was a strong proponent of technology for information sciences. He created one of the earliest computer labs and encouraged his students to use technology and conduct research. He also developed the interdisciplinary Ph.D. program in information science and brought the program to Houston.
A memorial service is planned for the fall.
Russell Lee Welch
Russell Lee Welch, 75, senior lecturer in the Department of Finance, Insurance, Real Estate and Law, died April 19 in Denton. He first taught at North Texas from 1983 to 1988, when he left to open a law practice. He came back as a part-time lecturer in 1997 and became a full-time senior lecturer in 2013. He taught courses on the legal and ethical environment of business, corporation law, international law, and logistics and aviation law. He also served as the announcer at the G. Brint Ryan College of Business commencement ceremonies.