Faculty and Staff Resources
Working at UNT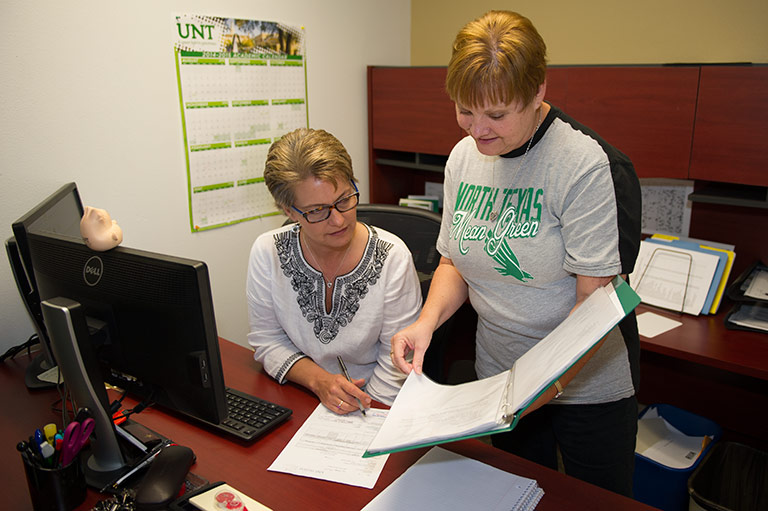 Careers at UNT
One of the nation's largest public universities, UNT offers a diverse work environment for faculty, staff and students to pursue creativity. Explore our many career opportunities and discover why Forbes named us one of the Best Mid-size Employers in the U.S. with more than 1,000 employees.
March is Staff Appreciation Month
Events happening March 13-18:
Apogee Stadium Tour,

10 - 11:30 a.m. or 2 - 3:30 p.m., March 14, Apogee Stadium

Enjoy a fun-filled behind-the-scenes tour of Apogee Stadium! Transportation will be provided via DCTA buses, which will leave from the Union Circle located in front of the University Union by 10 a.m. for the first tour and 2 p.m. for the second tour.
Learning Sessions March 13-18:
Top News
Brenda McCoy named associate vice president for strategic initiatives and administration at UNT
Obituaries
Rodney Mitchell
Rodney Mitchell, who served as associate dean of students and had worked at UNT since 2001, died Feb. 26, in Denton. He was 45.
He began his career as a management assistant in the Denton city manager's office and then began working at UNT, where he had earned degrees in applied arts and sciences and public administration. He served as assistant director for academic development for Upward Bound and as director of TRIO Upward Bound and student support services before being named associate dean of students in 2013. As associate dean, he took an active approach to student services. He established the UNT Food Pantry; helped students navigate problems through the Seeking Options and Solutions program and other intervention programs; and oversaw several programs designed to keep students in college.
Visitation will be from 6 to 8 p.m. Friday, March 2, at Singing Oaks Church of Christ, 101 Cardinal Drive in Denton. The funeral service will be at 11 a.m. Saturday, March 3, also at Singing Oaks.
John Franklin Ridings
John Franklin Ridings, 37, of Denton, died March 10 in Denton. A groundskeeper since 2016, he loved nature and plants. During his life, he attended military school, worked as a pipefitter and long haul trucker and was a Master Gardener in Denton County.