Each spring, thousands of University of North Texas students earn their degrees and become UNT alumni. Every one of them should be tremendously proud of everything they've accomplished in their time in Denton.
In celebration of our Spring 2022 graduates, below are the stories of a few of those freshly-minted alumni who overcame adversity and achieved great things on their way to becoming this semester's Great Grads.
---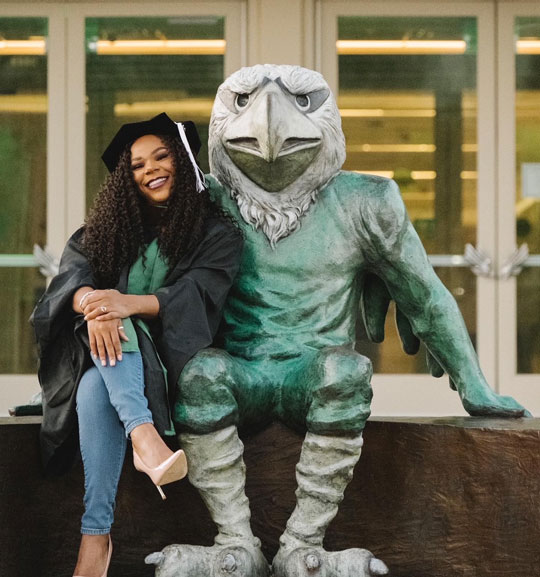 Felicia Jordan
Master's in Metalsmithing and Jewelry
By Jessica DeLeón
Felicia Jordan has faced a lot in her young life.
In 2020, her mother died of cancer and, a year later, her father passed away from Alzheimer's disease.
But Felicia found inspiration in those tough times. A lifelong artist, she began to think about the relationship individuals have with their physical, mental and emotional body and the impact it has on those around them.
"I started to create pieces that would convey my mother's pain from chemo, my father's confusion from losing his memory and my own emotional turmoil as their daughter bearing witness to their trauma," she says.
When the Dallas resident graduates with her Master of Fine Arts with a specialty in metalsmithing/jewelry, she will explore more of her thesis research about the relationships with body and mind.
"I look forward to expanding my technical knowledge and constantly researching and learning new things to become a better maker," she says.
Felicia's parents had always been an inspiration, influencing her to pursue art since she was a child. Her parents were makers, and her father was a carpenter who encouraged her to draw and build things.
Felicia loved drawing and painting, and she started making jewelry in high school - a craft she honed at the prestigious Booker T. Washington High School for the Performing and Visual Arts in Dallas.
"I love the meticulousness with which you have to approach metalsmithing," she says. "Things have to be done in the correct order and in the correct way or it will not work. I have to approach a project with a plan."
She began exploring the intricacies of the body and its faults, leading to her M.F.A. exhibition "Without/Within." Those pieces include a corset that represents what her mother endured. Both the corset and cancer shape the outside of the body and damage it internally. Her mother retained her composure to the outside world, while the cancer destroyed her body.
The corset, made from blue cotton fabric with 3D printed elements integrated in the design, became part of her graduate thesis. The exhibition also included 3D printed vases, slip cast porcelain vases and a set of three puzzles varying in difficulty.
Her time at UNT has been helped by the caring professors at the College of Visual Arts and Design. She was inspired to pursue a master's after Ana Lopez, associate professor of studio art who was one of her instructors during her undergraduate years, emailed her asking her to apply to UNT.
Felicia also credits her entire committee - Lopez, James Thurman, Binod Shrestha and Martin Back - for "keeping me grounded in the madness that is my life and grad school."
"All helped me succeed and get to the point where I am making work that I am proud of and telling the story of my parents," she says.
She studied while taking her mother to medical appointments and going to work - and credits her sister and partner for keeping her emotionally grounded.
"I have always loved school, and my parents were my biggest supporters," she says. "With them passing as I was going through this process, I didn't want to do it anymore and I didn't think I could. But having my sister and my boyfriend there to help keep my foundation from collapsing was amazing. The early mornings and late nights were never questioned, and their help with studying and writing papers, being sounding boards to my ideas and concepts, allowed me to reach levels in my research that I might not have been able to get to without them."
---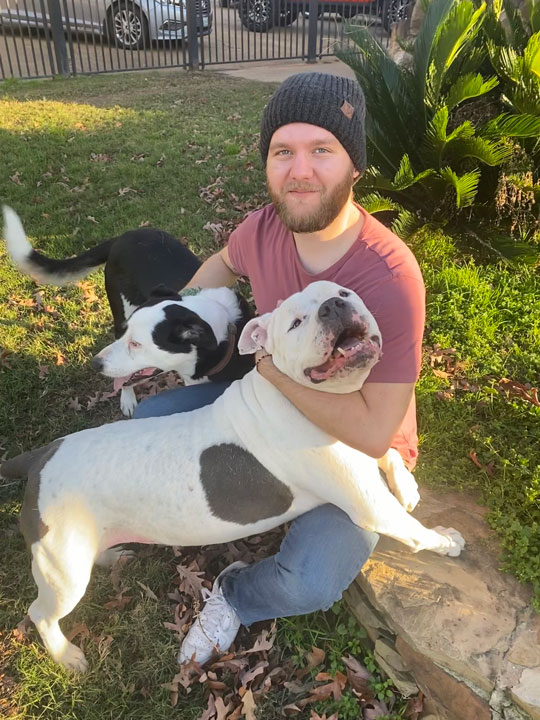 Tobey Mathis
Mathematics
By Amanda Fuller
Growing up in Haslet in a family of proud UNT alumni, Tobey Mathis always thought he'd break the mold and attend college out of state. His mother, Durenda, earned a business degree with a focus in real estate and his brother, Torey, majored in psychology.
"I didn't want to just copy-paste what they did," he says. "I had an urge to go elsewhere, to go explore."
After touring several out-of-state schools, he finally visited UNT and realized the adventure he wanted was closer than he thought.
"Every person I've met at UNT is just so friendly," he says. "It really feels like people are looking for friends no matter where you go. I was a physics major for a semester, and I'd go hang in the physics lounge all the time because the people there were just so cool."
But it was in the Department of Mathematics that Tobey found his passion, completed undergraduate research and thrived with mentorship from two tremendous professors.
Now on the path to starting his Ph.D. in Mathematics this fall, Tobey's journey began when, as a freshman in the Honors College, he gave a perfect answer to an extremely difficult extra credit problem in Kiko Kawamura's Differential Equations class. Impressed by his analytical skills and his passion for sharing his knowledge with fellow students, Kawamura encouraged him to change his major to math.
His future in the department was cemented when he emailed her to express interest in her research, kickstarting his undergraduate research career and laying the foundation for a mentorship — and friendship — that continues to this day.
"She requires a pretty high entrance skill level to start researching with her, but she's very humble," he says. "It makes it easier to feel like you're part of the group, like even as an undergraduate you're bringing something to the table. A lot of our meetings we don't go into like, 'Oh, I read this, I'm going to present it.' It's more like, 'I was thinking this, let me write it out and see where that takes us.' The teamwork is really nice."
Equally transformative was working with Associate Professor Lior Fishman, whose unique mentoring style extends beyond the classroom — and often beyond mathematics.
"He has so many interests and hobbies," Tobey says. "You don't even have to be in the math department. You can just walk up to him and say, 'Hey, I want to do research,' and he'll find you something to do. He likes to pair grad students with undergraduate students, and we've even worked with TAMS students, who are just so incredibly smart."
With guidance from Kawamura and Fishman, Tobey excelled as a tutor in the Math Lab, earned an Undergraduate Research Fellowship and co-led a STaRS talk in October 2021.
Tobey encourages students to look for connections with professors and be bold in asking for opportunity.
"I know it's easier said than done, but you'd be amazed by what you can get by just asking," he says. "Faculty email addresses and research are online. All it takes is reaching out. And if you're really lucky, you'll get a Dr. Kawamura or a Dr. Fishman."
Even with support, his road to graduation wasn't always smooth. At the start of the COVID-19 pandemic, Tobey found himself in the ER after struggling to breathe for days. Doctors informed him that he was having a panic attack, and he realized he'd likely been suffering from them for some time.
"Before I knew this was anxiety, I went to a research meeting and was gasping for breath. I just couldn't operate," he says. "I'd get to class and have to leave — something I'm sure many, many students go through. It makes everything harder than it needs to be."
Reaching out proved to be harder this time, but he eventually connected with a doctor and therapist who helped him gain a better understanding of his anxiety and how to effectively manage it.
Tobey's advice to anyone struggling with mental health is to not be afraid to take that first step. "Don't diminish your feelings. If you think you need help, that's the only sign you need."
"I know a lot of people don't have the financial ability to find a therapist, but there's help out there. Just finding someone to talk to, whether it's a mentor or a friend, can help. You have a few free counseling sessions and counselors available here at UNT."
Inspired by his professors and his experiences in the Math Lab, Tobey plans to complete his doctorate and share his passion for math as a professor.
"No matter how much somebody loves a subject, a bad experience can just kill it for them. I feel like a lot of people have had that issue with math. I would love to be able to get rid of that little bit of frustration."
---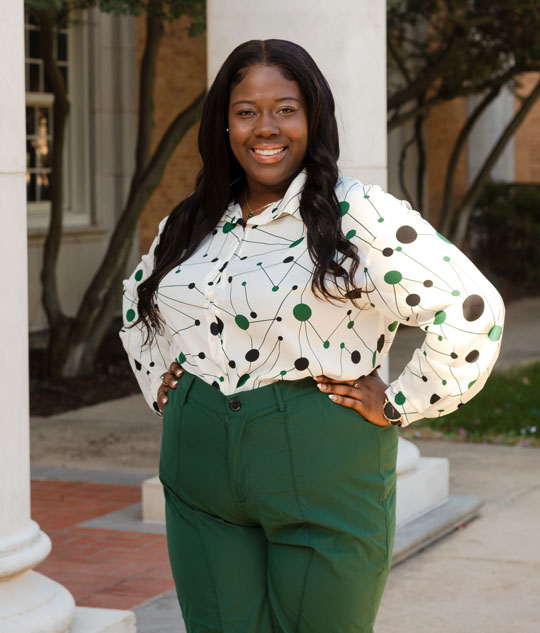 Sydney Dunevant
Hospitality Management & Digital Retailing
By Randena Hulstrand
Before Houston native Sydney Dunevant stepped on the UNT campus three years ago, she was laser-focused on two goals: earn a degree in Hospitality Management and work as an RA. After her freshman year living in West Hall and soaking up all the knowledge she could from her RAs about the job and how to apply, she landed the position.
"I was over the moon to get the email," she says, adding she was assigned a wing of 40 freshman residents in Joe Greene Hall. "But then COVID broke and all our classes went online."
But through all the uncertainty, she managed to help create a sense of community for the students on her wing and keep herself on track.
"No one knew what was going on — they wanted to be part of college life but we had so many restrictions on what we could do," Sydney says. "We couldn't have our check-ins in person and the last thing anyone wanted to do was get on another Zoom call outside of class. But it forced me to think outside of the box to host "This or That" games online and to create lively and vibrant bulletin boards in the hall so the residents would feel welcomed."
All the while, Sydney was navigating how to be on her own. She had her own bouts of homesickness and loneliness amidst facing death for the first time when her cousin passed away from lupus.
"I had my tough times, but I needed to jump back into school," she says.
In addition to her RA position, she has helped plan campus events through her work on the University Program Council, worked a second part-time job at the Hilton Garden Inn in Lewisville, claimed a second major in Digital Retailing and earned a Hotel Operations certificate while making the dean's list or president's list each semester.
"Fortunately, I had the support to push through. During the lockdown my family face-timed with me every other day and the other RAs and my two bosses were big support systems," she says. "It felt like a well of encouragement — they all poured love and support into me and then I was able to pour myself into the students in my hall."
Despite the obstacles she's faced the last few years, Sydney's ability to never give up and see the end goal is paying off. She recently was inducted into Eta Sigma Delta Hospitality Management Honor Society and will graduate magna cum laude.
"I'm following my desire for a career in event planning and management, and seeing the world in a new way," she says, adding that the diversity and inclusion at UNT has had a tremendous impact on her.
"After my involvement with Women of Gold, an empowerment organization on campus, during my freshman year, I felt accepted and represented as a Black woman with the struggle of being a college student, which helped me find my voice," she says. "And as an RA, I've learned about how to treat people from all backgrounds and make them feel a part of something bigger than themselves, which taps into my love for hospitality. I will apply what I learned as a UNT student throughout the rest of my life."
With more than 25 friends and family members coming to celebrate as she crosses the stage for graduation, Sydney says she's quite proud of her UNT journey.
"My heart is going to melt. I'll truly miss the football and basketball games, hearing the band play the fight song, and seeing all the campus organizations at the Mean Green Fling," she says. "Some tears are going to be shed."
---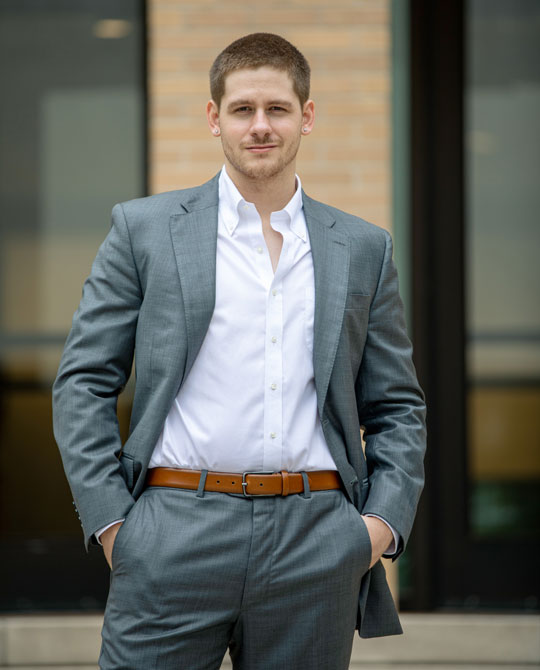 Devon Eskew
Journalism with a Concentration in Advertising
By Michelle Hale
Devon Eskew is the first to tell you that nothing about his life has been a simple journey from point A to point B. His has been a winding road with obstacles and directional changes, but it's a journey he doesn't regret because every experience has brought him to where he is today, a soon-to-be UNT graduate.
Born in North Carolina to military parents, he moved to Okinawa, Japan when he was in preschool, then to Enid, Okla., where his parents went through a bitter divorce. By the third grade he was living in Plano, and in high school he moved into the tri-lingual home of his maternal grandparents where Spanish, English and Ukranian were all spoken.
"My grandmother is my No. 1 fan," he says. "She's from Paraguay and spoke only Spanish to me growing up. She has a third-grade education and worked her whole life as a seamstress and she has an amazing eye for design," he says, adding that he loves showing his ad concepts to her to get her input.
After high school, Devon worked for a year, then enrolled at the University of Texas at Dallas, where he got involved in several activities, but changed his major five times before withdrawing.
"I didn't know what I wanted to do," he says. "I wanted to be a film director when I was 15, then later an art director. But I was young and didn't know myself."
Next, he enrolled at Collin College where he pursued an associate's degree and worked in food service to support himself. It was at Collin College that he finally settled on what he wanted to pursue as a career.
"My ultimate dream is to be a film producer," he says. "So, I chose to go to UNT for its film program, which is very hands on. I got to go right into camera work. There are more opportunities at UNT and it's affordable."
Once at UNT, Devon continued to encounter bumps in the road.
"At one point in 2019, I thought I wasn't going to be able to stay in school," he says. "I was commuting to Denton and living with my dad. But within a three-month timeframe, my grandmother passed away, my relationship suffered a blow and my my dad and I had problems so I had nowhere to live. I called a close friend who let me stay with him and only charged me a small amount a month for rent. I managed to keep taking classes but ended up with the worst GPA I'd ever had."
Determined to finish his degree, Devon pushed through the struggles of the pandemic and spent as much time as possible working and saving money. He took a job with a moving company and rose to the level of crew lead where he learned about leadership and valuing your team. He says the UNT programs he was involved in, like SWOOP (UNT's student managed advertising agency) and Gravitas (UNT's competitive ad team) helped him to grow with real-world experiences. Several faculty members — including Bill Ford, Nicole Sagullo and Stephanie Oliver — inspired and supported him — they were the difference between his success and failure.
"They affirmed me," he says. "They spent time with me to talk with me about the industry, about my abilities and about their experiences."
Today Devon has a plan to fund his own production company.
"I want a job as an agency-side producer," he says. "I want to experience the fast pace of that environment, that constant grind. Eventually, I want to invest what I earn into short films and find a script and a director, help them get funding and running short films through the circuits. Then, I want to move into independent film as a producer and distributor and run a production studio making good B movies, like Roger Corman's exploitation films."
He has big dreams and knows his struggles and challenges have prepared him for any obstacle ahead.
"I had to face adult problems as a child and as a young adult," he says. "They benefited me, forced me to grow. Now, I can have a conversation with a CEO and not be shaken. I know myself and I enjoy the person I've become. It's taken a lot of progress to get here and I don't know what's coming in the future. Life is a mystery but I'm ready."
---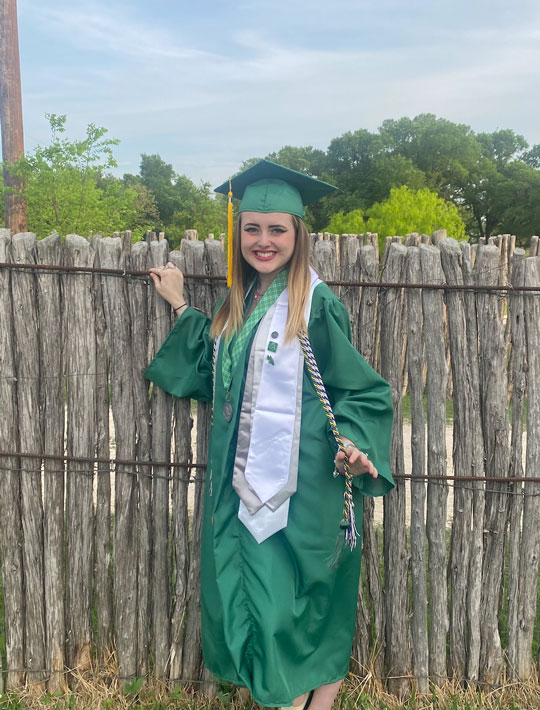 Elisa Valentine
Psychology
By Melisa Brown
Elisa Valentine has heart — she's graduating at 19 years old, magna cum laude and she and her service dog, Crush, will cross the stage together.
Having faced adult-sized traumas at a young age, including the incarceration and death of her father, crippling anxiety and depression and a health condition requiring constant monitoring by her medical mobility and psychiatric alert support dog, Elisa has demonstrated courage others may never know.
Elisa's mom and dad met when her mom was just 14. Times were hard, but Elisa's mom was determined to make it work. She stayed with Elisa's father (Elisa refers to him as Eli) until one day he struck her while she was holding Elisa. That was the final straw — they left and went to live with Elisa's grandparents and Eli went to jail. In and out of prison over the years, Elisa visited him at times (sometimes during supervised visits and eventually unsupervised). Ultimately, he again landed in jail during the Thanksgiving holiday. Distraught that he was unable to get someone to bail him out, he took his own life. She never had the chance to say goodbye.
As if things hadn't been traumatic enough, Elisa was diagnosed with the heart condition Postural Orthostatic Tachycardia Syndrome (POTS). POTS causes her heart rate to rise and her blood pressure to drop, a precursor to losing consciousness - this is where Crush comes in. He can sense when this is about to happen and alerts and stabilizes Elisa by crawling under her legs to increase the blood flow, alerting others nearby, or fetching water for her for when she awakens. Elisa began to suffer severe depression and anxiety and she leaned heavily on her mom and grandparents and therapy. She is a proud first-generation college student and credits her grandfather's work in corrections and her grandmother's position in social work for helping her understand the value of social services.
Her grandfather passed away in 2017, but Elisa says she's forever grateful to her grandparents,s her mom and stepfather for giving her an amazing life and being her biggest supporters. She even wrote a letter thanking her grandmother for everything she has done to support Elisa and her mom.
And to her mom, "I will never be able to make up to my mom what she has given me. She made sure we had food on the table and a roof over our heads. She gave me my independence and taught me my worth. She always pushed me to take opportunities and get out of my comfort zone," she says. "She is my best friend (I even call her when I'm making mac and cheese), my savior and always puts me first."
Elisa had earned enough dual credit in high school to begin college as a sophomore and she chose UNT because of the culture, diversity, available scholarships and especially because it's a Tier One research university. Research is one of Elisa's passions, and as a McNair scholar, she spent a great deal of time conducting research (Elisa says UNT is one of THE best Psychology and Music schools in the country). She also says the university is just far enough away from home for her to feel independent, but close enough to drive home to Rio Vista on the weekends to spend time with her family.
"My mom was my best resource, making sure I was in Upward Bound in high school, and always working to make sure I had the experiences she wasn't able to have. I felt really proud that UNT saw potential in me as a first-generation student and took me in," Elisa says.
All the issues Elisa has dealt with may seem daunting, and she admits that the journey hasn't been easy. But, it's because of her journey and those who came before her that she wants to destigmatize mental health issues. Depression and anxiety have been omnipresent things Elisa has struggled with her entire life. Her struggle fueled her desire to be an advocate for mental illness and the importance of overall wellbeing.
"Mental health professionals are angels," she says. "I'm not a stranger to mental illness and I want to help people the way they have helped me. Therapy is for everyone. You don't have to struggle alone and you shouldn't be afraid to ask for help. Tell someone. There is help for you."
Elisa has had lots of support throughout her educational journey, but the professor she credits as being her biggest cheerleader and mentor is Dr. Danica Slavish, assistant professor in the Department of Psychology. She says she wouldn't be where she is today without Dr. Slavish, who has guided her both personally and academically.
After graduating, Elisa plans to take a year off to reflect and enjoy some down time. She then wants to pursue a Registered Behavioral Technician certification. And she wants to continue learning. Elisa plans to get her master's degree after she has some experience under her belt.
"UNT was a home away from home for me. They always made me feel safe and included with events like Admitted Students Day," she says. "I also love walking to class with Crush. Seeing people throw frisbees and enjoying the campus life brings me joy."
Her advice for incoming freshmen? "It's really important to get involved in activities on campus. Don't take your time in college for granted — it's one of the most important experiences of your life. Whatever you do, get involved."
---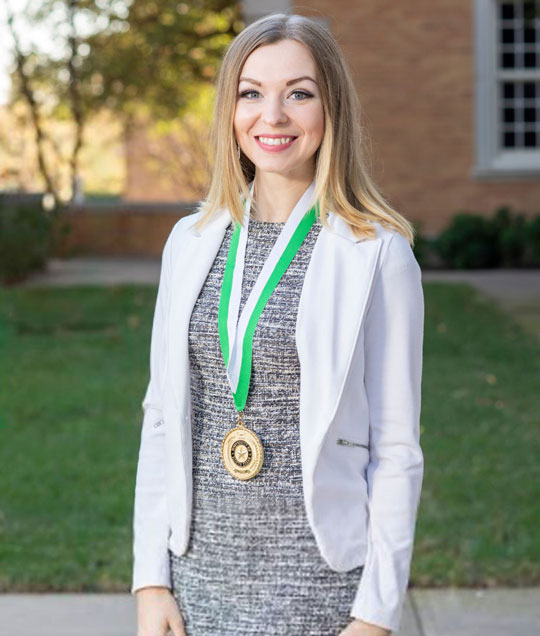 Tetyana Kucher
Doctorate in Learning Technologies
By Trista Moxley
Going into the final semester of her Ph.D. journey, Tetyana Kucher was looking forward to the future. Her dissertation on using virtual reality to teach foreign languages was strong and she already had a job she was excited about continuing after commencement.
Then, on Feb. 24, 2022, Russia invaded Ukraine. Tetyana spent two weeks unable to do anything, constantly searching for any new update and waiting to hear from her family, still in Ukraine.
One of her professors, originally from Poland and still in possession of a home there, offered Tetyana's mother a place to stay and helped Tetyana arrange for her mom to leave Ukraine for Poland. Her father and brother stayed to fight for their country.
"I was just constantly thinking, 'nothing is important right now, nothing makes sense, nothing is even worth thinking about, and everything is stupid compared to what's happening in Ukraine,'" she says. "The war started during the time when I was doing the final touches on my dissertation, finishing my last paper and preparing to present all my work."
Due to the circumstances, she was given the opportunity to submit her dissertation late, moving her graduation to the end of the summer, which traditionally doesn't offer a ceremony. Despite the change being a less stressful, easier option, she wanted to push forward with graduating in Spring 2022, with all the ceremony.
"Doing this for years felt like such a big journey that I did want to celebrate by having commencement," Tetyana says. "My family can't attend, but they'd love to be there, so at least I can show them photos. It felt like it would be very underwhelming if it happened in the summer."
Her journey started with learning English in school and then earning a degree in teaching English as a foreign language at the Vinnytsia State Pedagogical University in Ukraine . When her university in Vinnytsia established a partnership with Southeast Missouri State University and offered a dual-master's degree, she decided to move to Missouri. A few years later, she decided to pursue her Ph.D. at UNT, focusing her research on using virtual reality in language learning.
Throughout her college and professional career, she has taught English as a foreign language, largely working with international students in the U.S. As she started working on her Ph.D. in education, focusing on curriculum and development, the College of Information Learning Technologies department drew her interest, especially their work in virtual reality as a teaching tool. Tetyana chose to earn her Ph.D. in learning technologies.
"It makes sense to learn languages in virtual reality, because we can get connected with other people without the geographical constraints. Not a lot of research has been done in this area, which was surprising to me," Tetyana says.
COVID offered several challenges because implementing VR in classrooms, part of her original project design, required in-person interactions. With the help of professors Lin Lin and Regina Kaplan-Rakowski, she shifted her focus to exploring current literature on the topic and analyzing existing datasets.
"Dr. Lin was my academic advisor and she always cared about my success," Tetyana says. "She always made me feel like I was valued, not only as a researcher, but as an equal, rather than simply being a student. Dr. Kaplan-Rakowski has become a great mentor for me. When we met, we instantly connected. Whenever I found myself in doubt, she would be there to offer her support and advice. We collaborated on numerous projects together and spent countless hours talking them out over the phone. Having opportunities to work with her was such a blessing."
That support has pushed her to earn her Ph.D. and other awards including 1st place in the Three Minute Thesis competition and departmental recognitions.
She says that the biggest thing she learned is that it's okay to realize that your initial plan isn't the right path anymore because you've grown as a person and what you're passionate about has evolved.
"Earning a Ph.D. is such a journey," she says. "I was always thinking, 'what excites me?' I think that it's important to acknowledge that by the end, you're probably going to be a different person."
---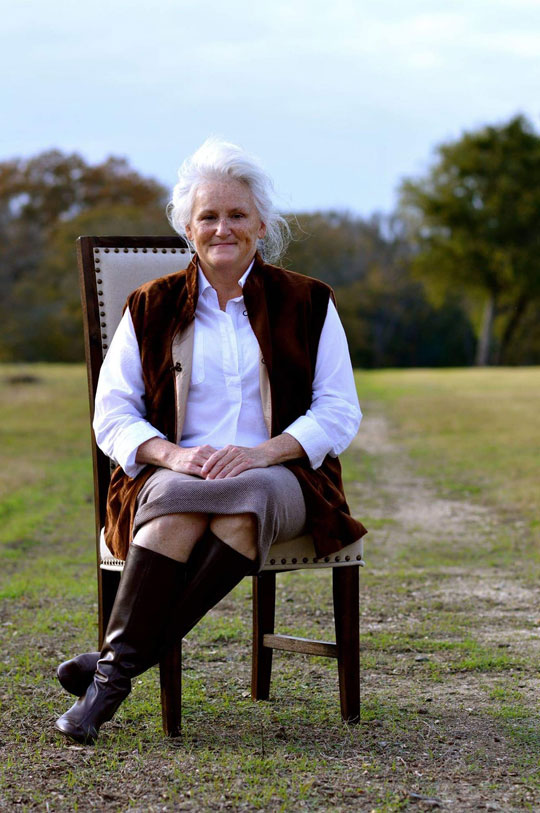 Pamela Tumlinson
Master's in Rehabilitation Counseling
By Trista Moxley
Pamela Tumlinson is a survivor.
After a 16-year battle with opiate addiction almost ended her life, she entered recovery in 2009.
At age 51, she enrolled in graduate school with the goal for helping others battling addiction or living with other barriers realize their full potential.
"I'm an individual in long-term recovery who believes everyone deserves an opportunity no matter what obstacles they are facing," Pamela says. "I speak my truth even when I'm afraid. I have persevered through great adversity and want to shine my light so that others can find their way out of the darkness."
To help achieve her goal, Pamela chose UNT to earn her Master of Science in Rehabilitation Counseling with a minor in addiction counseling.
She currently counsels individuals who are facing the same challenges she did and intends to use her degree to continue to help individuals live free from substance abuse.
While she loves the variety of online options UNT offers, she said the lack of in-person interactions during 2020 was challenging for her.
"Learning how to work full-time and be a full-time student was my biggest obstacle. It required me to learn time management skills and prioritize what is most important for myself, my clients and my coursework," Pamela says.
She says the keys for her were time management, reading all the materials more than once and remembering self-care. Additionally, she checked out all of the available resources at UNT, especially when it came to areas where she struggled, like writing papers.
"I actually love a quote by Claire Fagan — 'Knowledge will bring you the opportunity to make a difference.' I feel that in my soul," Pamela says. "Education is powerful and life changing. I feel I have something to offer and something that can't be taken for granted. For this moment in time, I was in the presence of educators who are part of making a difference in the lives of others."
---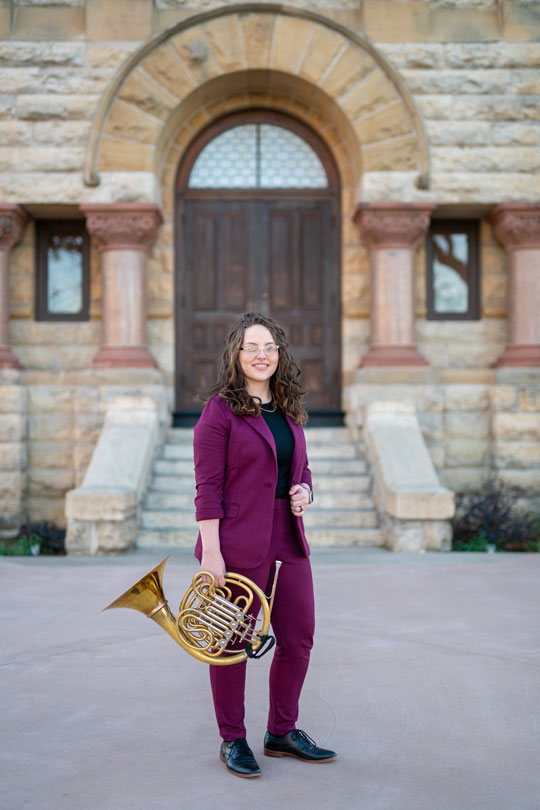 Charity Morrison
Music
By Heather Noel
The first day of college is a momentous occasion for any student, but it was even more meaningful for Charity Morrison.
Her first day at UNT was her first day of school - ever.
This May, she'll add another personal first - being part of a commencement ceremony. She will graduate summa cum laude and as a Distinguished Honors Scholar earning a bachelor's degree in music with minors in Chinese and English.
The path to this achievement wasn't a straight one and there was a huge learning curve, she says.
Unlike many of her peers, Charity never had a formal education as a kid. She was born in China and lived there until age 12, when her family moved to the U.S. She grew up in a restrictive religious community where women were not encouraged to be educated or pursue a career.
"When I decided I wanted to go to college, I borrowed textbooks from my aunt and watched videos online trying to assemble pieces of a formal education that I didn't ever receive previously," Charity says.
As a resident of Cross Roads, a town about 10 miles east of Denton, Charity put her sights on attending UNT, home to one of the largest public-university music programs in the U.S.
Charity had already been composing music since age 13, but she still had another thing to check off before applying to UNT - she had to learn how to play an instrument. Charity taught herself how to play horn with one her grandparents had acquired in a garage sale nearly four decades before. She sought private lessons with a UNT graduate horn student just eight months prior to her audition. Her hard work paid off and she got accepted.
At first everything was a little overwhelming to Charity, but she soon found her stride making friends, getting to know professors and becoming involved in the College of Music.
"All the places on campus that were big and scary in the beginning, now they're my comfort zones," she says. "Because of my unusual background and everything that I've experienced, I don't always fit in with my peers, but at UNT - this is my place of belonging. UNT is my home."
Charity joined and eventually served on the executive board for UNT's chapter of Mu Phi Epsilon, a professional music fraternity. She rose to play horn in UNT's Wind Symphony and Symphony Orchestra, the top large ensembles, and now teaches private horn lessons to middle and high school students in Denton ISD. Her compositions have been performed by tubist Steph Frye-Clark and award-winning international pianist Brianna Jaeger, among many others.
For her senior recital this spring, she had the opportunity to play horn and was joined by other student musicians who played compositions she had written. It was a milestone moment of all she had accomplished at the university.
Women are underrepresented in spaces for professional brass musicians, but Charity had several role models here at UNT.
"We are phenomenally lucky to have three, full-time female brass faculty - Natalie Mannix, Stacie Mickens and Raquel Samayoa," Charity says.
Mickens, her horn professor, has been particularly influential.
"Dr. Mickens has helped me figure out the process, gain the confidence that I belong here and everything else along the way," Charity says.
Following her graduation this May, Charity plans to pursue a master's degree in horn performance at Arizona State University.
She hopes to continue writing music, possibly perform professionally and maybe even return to a university as a professor one day.
---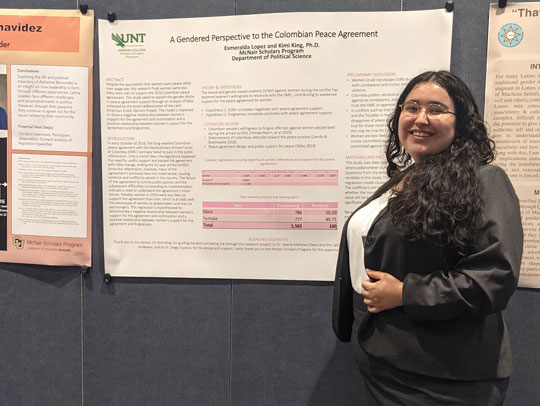 Esmeralda Lopez
Political Science and History
By Robyne Henry
Esmeralda Lopez has always had a niche for studying the patterns of history. Since she was in high school, she had dreams of becoming a lawyer. However, her goals shifted her freshman year in college when she got involved in undergraduate research with Professor Kimi King in the Department of Political Science.
"After our hour-long discussion, I realized, "OMG, I think this is what I want to do!" Esmeralda says.
In her undergraduate research program, she focused on conflict resolution and peace-building while using Colombia as a case study, and she continues an extended study of "how experiences with government trust and violence are related to support for the peace agreement" there.
Esmeralda admits the research on Colombia is complex, but she's interested in sharing and understanding through her studies.
A South Texas native, she had hardly visited the North Texas area until she came to UNT. She says the "intangible quality about Denton" that attracted her the most was its hospitality. "Everyone was incredibly kind."
As a double major in political science and history with a minor in Spanish, Esmeralda hopes to transform the historical landscape of Texas history. After graduation, she plans to attend the University of Michigan for its dual public policy and political science Ph.D. program and then return to Texas and work in academia at an R1 research institute in Texas.
"Texas has a lot to offer," she says, adding that if she were to leave permanently, she'd feel like she was "abandoning the opportunity to create change within Texas."
Esmeralda credits being a part of the UNT Moot Court and a McNair Scholar for helping her get into graduate school. As a member of the Moot Court executive council, she sharpened her leadership skills and rhetorical abilities, even making it to nationals her freshman year.
"What's been most incredible for me with the UNT Moot Court is the opportunity for travel," she says. "Before Moot Court, I had not been outside of the state or even on a plane, but I had the opportunity to go to New York and Louisiana."
Esmeralda's advice to incoming freshmen is to "take advantage of every minute that you are on campus, especially the first semester. Take advantage of every social and professional opportunity because you may not have another chance."
---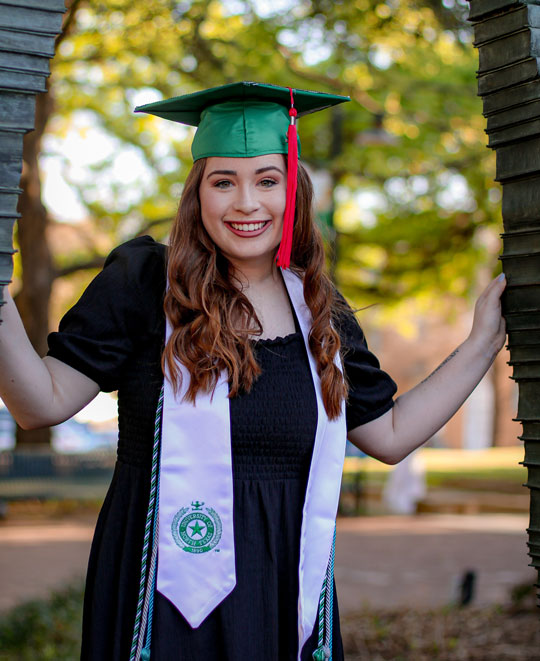 Shayna Russo
Public Relations
By Sofia Nehal
Shayna Russo fell in love with UNT before she ever stepped foot on campus. She knew this would be her forever home before even taking a tour. Born and raised in Massachusetts, life was everything she could ever want until her life ultimately flipped upside down. She was placed in foster care at 17 years old, which normally would be perceived as an unfortunate experience but for her, it felt liberating and exciting. She was placed in a group home in Fort Worth and lived there until she graduated high school while completing dual credit courses, which was a dream come true.
After graduating, Shayna was adopted by her foster parents and found her forever family. It also was during this period that she was accepted to UNT, her top choice for university. She received automatic acceptance due to her outstanding grades and SAT scores.
"Even though I didn't know what I wanted to do, I knew this was home," Shayna says. As she began her college journey, she plugged into Campus Outreach, where she has met forever friends and has made some of her best college memories, helping her grow, feel more loved and find her ideal path.
She transitioned from being a Communications Studies major to public relations in the Mayborn School of Journalism. The program helped her pursue her inner passion for advocacy, brand development and communications. One of Shayna's favorite classes was the communications capstone course, where she not only finished strongly but found a lifelong mentor and friend in Rebecca Poynter, a senior lecturer who also runs Agenz, the student-led PR agency. To this day, Shayna often visits her. "She goes out of her way to help her students whether it's to find jobs, spread awareness regarding the importance of PR or make class fun," she says.
Like many of her peers, Shayna was learning how to be independent as a college student, while also learning how to be a part of a new family. That combined with navigating pandemic life has been challenging. But it's important for her as a first-generation student from a foster care family to make a difference by showing other foster children that they also can go to college.
Less than three percent of foster children earn a college degree. Shayna is thankful for the opportunities and resources she found at UNT and she plans to work on a graduate degree in digital communication analytics after taking a gap year. With a positive attitude fostered by fond memories and her own personal development and growth, she is excited to continue her UNT legacy.
"There simply is no better institution than UNT," she says.
---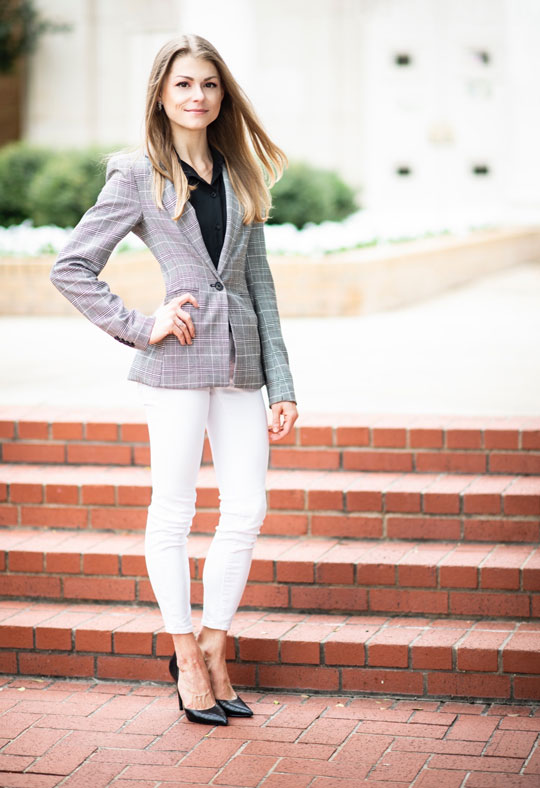 Madison Card
Psychology
By Amanda Fuller
Madison "Sonny" Card is a master of the pivot. She's bounced back from a life-changing injury, traveled across Europe and built a professional dance career through performance and choreography. Five years ago, her journey brought her back to Texas soil, where she was born and raised, and to UNT, where she'll earn her bachelor's degree in Psychology.
Sonny moved to Santa Clarita, California, after high school to study dance at the California Institute of the Arts. She'd been dancing professionally for years by then and cherished the opportunity to immerse herself in the thing she loved most.
Unfortunately, her health has always been one of her greatest struggles and it wasn't long before her drive outpaced her body. After spending months in and out of the hospital due to complications from Crohn's disease, she took a medical leave of absence, which turned into a year of working, travelling and figuring out where her compass pointed without dancing on the stage.
"I think that's one of the biggest lessons I've learned," she says. "It's OK to be good at something and not do it for a living. You can just do it because you enjoy it."
She transferred to UNT, where she found her home in the Honors College and the Department of Psychology.
"The Honors College was very helpful, especially coming from an arts background," she says. "Having that foundation and structure provided me a much-needed support to overcome intimidating tasks like writing a thesis."
In 2020, Sonny became a McNair Scholar and started working with her mentor Anthony Ryals, assistant professor of psychology and principal investigator in UNT's Neurocognitive Laboratory.
As an Undergraduate Research Fellow, she combined her passion for dance and love of neuroscience by studying the mind-body relationship in formally trained dancers. Just as her research began to take off, the COVID-19 pandemic hit.
"Narrowing down my interests was hard because I saw so many opportunities when designing my study. Needing to pivot from a largely in-person, hands-on design, I had to consider what was necessary versus interesting to fulfill the purpose of my study with limited resources and personnel."
She transitioned in-person components into tasks that could be virtually delivered and secured additional funding to create a portable version of her experiment that could be set up off-site at dance studios or any available space that permitted social distancing. She tapped into her dance networks from Calarts and around Dallas to find participants.
The experience taught her another valuable lesson — big ideas will get you started, but small steps will see you through.
"Simplicity, moderation and consistency in your intentions and actions help you to achieve your goals," she says. "It's not necessary to do everything. Instead, keep an eye out for new opportunities and keep trying. Things will work themselves out."
Her hard work paid off when she won a prestigious NSF Graduate Research Fellowship, which recognizes outstanding graduate students in STEM disciplines. The five-year fellowship includes three years of financial support including an annual stipend of $34,000 and a cost of education allowance of $12,000 to the institution. The grant will allow her to pursue a Ph.D. at Northeastern University, where she will be affiliated with their Center for Cognitive and Brain Health.
Sonny attributes much of her success to the encouragement and guidance she received from her UNT professors. Ryals, who sponsored her undergraduate research through the McNair program, submitted a highly supportive letter of recommendation, as did Sharon Jenkins, professor in the Department of Psychology, and April Becker, assistant professor in Behavior Analysis.
The NSF grant wouldn't have been possible were it not for James Duban, associate dean for research and national scholarships in the College of Liberal Arts and Social Sciences, who approached Sonny after the 2021 McNair Scholars Fall Research Assembly and encouraged her to apply.
"Knowing I only had about three weeks until the deadline, I scoured the Internet and found a website where people post their submissions and results. I went through and read all the psych-related research proposals to get a sense of what distinguished a recipient from an honorable mention" One happened to be from Danica Slavish, an assistant professor of psychology at UNT.
Sonny sent her proposal to Slavish, Duban, Ryals and Becker, all of whom generously devoted their time and expertise to guide her through the review process. Ultimately, she estimates pouring around 300 hours into her submission. UNT's wide range of academic resources was fundamental to her success.
"There are many wonderful opportunities and resources at UNT," she says. "Taking the time to find and use them will greatly benefit you. In the Honors College, I wasn't sure if Dr. Sean Ryan was my designated advisor all four years, but I kept meeting with him because I felt he understood me and my ambitions. Through McNair, I was able to attend workshops through the Library and Learning Center that helped me improve my writing and previous literature research for my study. There are many unique opportunities to learn across disciplines that help build a strong foundation — the Professional Leadership Program and the Career Center in Sage Hall are great examples, to name a few."
"Everyone at UNT really wants to help you, but you must show them that you want to be helped. I've experienced how frustrating at times it may seem. I know — I'm stubborn, so it was hard for me. But it's not a bad sign if you need to go a step further to find something yourself. When you find it, you're going to set yourself up for a lot more opportunities in the future."
---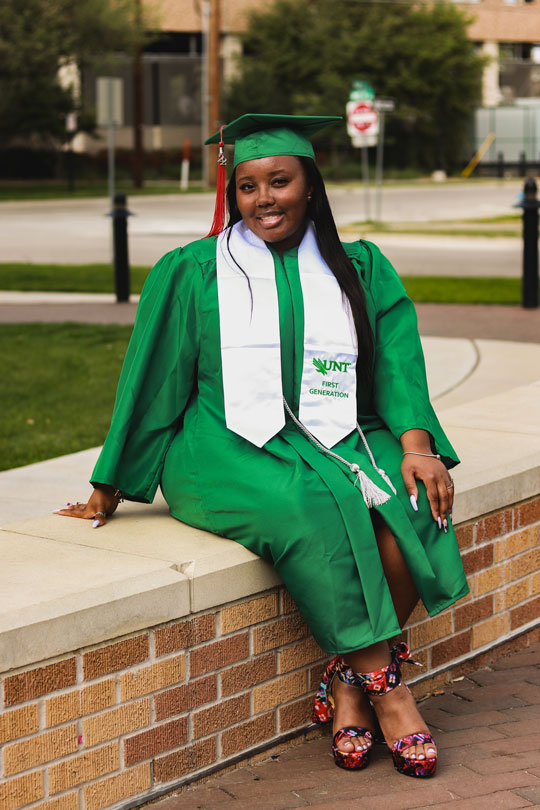 Joi Benton
Advertising
By Dani Zachariah
Even though Joi Benton has changed her major two times, with the patient guidance of her advisors, she leaned into her interest of advertising and never looked back.
She came on a college visit to UNT in the 8th grade and fell in love with the campus. She liked that she would be far enough from her family in Houston to spread her wings, but still close enough if she needed her mom.
Joi originally came to UNT for business, then switched to education and down the line she confirmed her true passion for advertising during her sophomore year.
"Out of nowhere I was like 'I could write commercials," she says.
As an advertising student, Joi took courses like copywriting and art direction and was taken under the wing of Principal Lecturer Bill Ford.
"He's been a very great mentor, advertising wise, because if someone has a question about the industry he can answer it," she says. "It's bittersweet knowing he's retiring this semester because I'm one of his last students and no one else is going to see what a great professor he is."
And she jumped into extracurricular activities as a member of AdClub and participated in GRAVITAS, which is the national student advertising competition. Most recently, the team competed in Houston and won the award for "Best Concept." She also was selected to be a part of the student-run advertising agency SWOOP, where she currently serves as vice president. Additionally, Joi is an active member of the Professional Women's Council and took part in the UNT Green Lite Step Team.
As her time at UNT is coming to an end, Joi will be the first person in her family to graduate from college - making her a first generation college student, an achievement she hopes will make her a role model for her younger cousins.
"I see my older cousins and they did have the opportunity to go to college, but they chose not to because of external factors," she says. "I wanted to be someone that my little cousins could look up to - I wanted to change this trend."
Joi has come through many hardships in her early life and while in college. Her parents divorced when she was very young and she attended seven different schools up until the 3rd grade due to family financial troubles. She also struggled financially while in college but has since learned to be responsible with money through making deadlines.
"When somebody tells you that you owe something, you need to pay them," she says. "Deadlines are a thing; that made me a more financially savvy person and I'm more appreciative of the blessings that I have."
Now she is about to graduate from UNT with a 3.5 GPA and is hoping to complete a 10-week internship during the summer. Then she'll further her education at UNT in the Toulouse Graduate School next fall, where she will work toward her master's om digital communication analytics.
Professionally, Joi hopes to work within strategy and research to create the next big advertising mascot like Flo from Progressive Insurance.
"You don't always have to have it figured out or be the smartest person in the room and know everything," Joi says. "It's about the process of learning."
---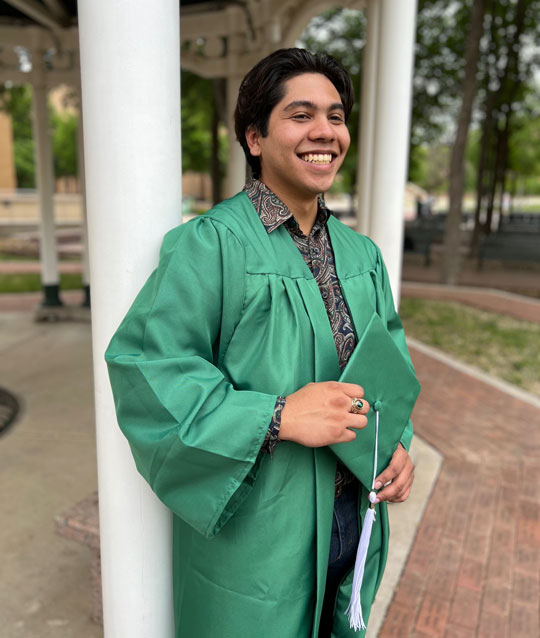 Javier Santillan
Project Design and Analysis
By Sofia Nehal
Javier Santillan had no idea what to expect when he joined the new Project Design and Analysis program at Frisco in 2019. Now he and his cohort will be the first graduates from this uniquely immersive program. As a first-generation student, Javier knows the importance of a helping hand "I know what it's like to go to school and not have resources or to need somebody to help me, but not even know who or what to ask," Javier says. Transferring to UNT, it seemed everyone was ready to connect and to support him throughout his educational journey.
Co-workers, freshmen members of the third cohort and friends have called Javier an "innovative leader of tomorrow" due to his dedication to helping others. Javier's work with UNT's student outreach includes the Texas Work-Study Mentorship Program and the Consulate-General of Mexico, leading a team in connecting the Hispanic and Mexican resources. Javier is also involved in G-Force, a group in which students like Javier go to high schools to mentor high schoolers by helping them with college applications and making plans post high school.
Javier came to UNT after graduating from Richland Collegiate High School with both his high school diploma and associate degree. He was then admitted to UNT in Frisco and looked forward to the data analytics courses to expand his ability to think critically and apply innovative ideas, all while being a friend to the environment.
"My major is interesting because it's the first-of-its-kind, offering diverse industry experiences and insights where we can truly bring in new perspectives and affect people inside and outside of the organizations we work in" he says. Javier has worked on projects with admission events like UNT Live and Transfer Debut and course projects with the City of Frisco, Aperio Insights and a healthcare revenue cycle company. He says he has loved the uniqueness of being able to work in class with top-notch corporations and experts in their fields.
"The professors are so dedicated to their students, which I love - and the university is an open community that cares. My professors want us to be good students and be ready for life after college," Javier says. Looking forward to the future, he has taken what he has learned and founded STAND, a student organization started at the UNT at Frisco location. "Mentoring, community service and other aspects of giving back are important for those we serve and the next generation of community leaders," he says. STAND supports community projects like revitalization of local gardens and connecting the community through other environmental efforts as well as a grass roots collective for equal rights advocacy. Javier intends to work with corporations to ensure they have social goals that go beyond the main role of the corporation.
As his UNT journey comes to an end, Javier reflects on his favorite part of UNT, the camaraderie. Whether it was having coffee before class, doing homework in the parking lot with professors and peers or sharing ice cream with friends, he says he'll miss it all. The UNT Office of Outreach will also have a special place in his heart. Javier says his journey wouldn't have been complete without the help and support from his advisor, Courtney Graham, and his supervisor, Latrice Moore.
"Courtney and Latrice really helped me grow, develop my skills and I will always be grateful. In fact, I plan to extend the same helping hands to others that they did for me and that will be my Mean Green legacy."
---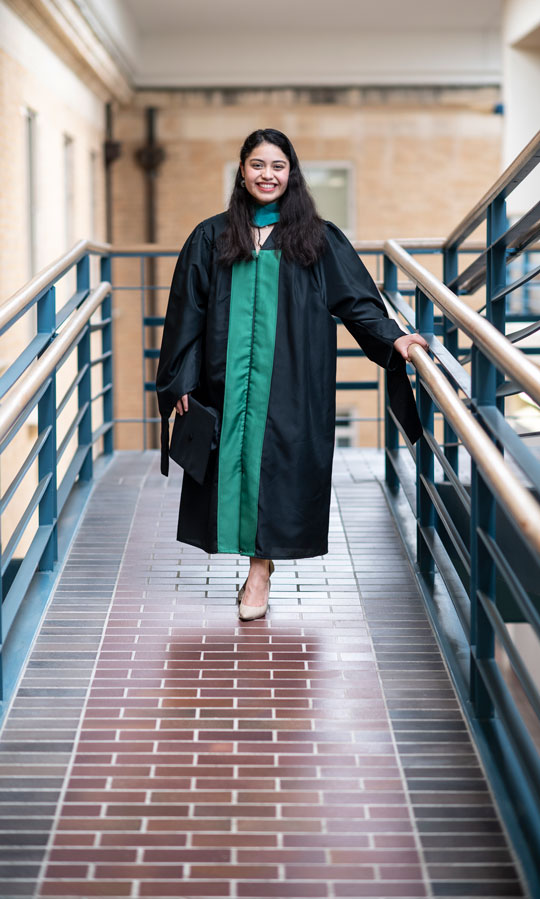 Odalis Alvarado
Master's of Public Administration
By Meredith Wright
Believing that education should be a right, not a privilege, Odalis Alvarado plans to devote her career to promoting educational equality across the globe.
"As the daughter of immigrants, I am the American dream my parents wished for themselves and their children," says Odalis, a Master's of Public Administration student who will graduate in August 2022, then head to Ireland to pursue a second master's degree in education at Queen's University Belfast thanks to a $40,000 Rotary Global Grant.
Odalis says the financial hardships she faced and her overall lack of guidance about higher education could have prevented her from attending college. However, she chose to work harder than others to create a life of opportunity.
"Dedicate everything you have to your dreams and goals, and make the necessary sacrifices to help you reach them," she says. "Without sacrifices, we will never amount to anything greater. Do everything that scares you no matter how terrifying it is. You grow the greatest by overcoming fears."
She intends to dedicate her life to reducing gender disparities and promoting education children's programs across the world, especially in Taiwan where she worked 18 months as an ESL educator and studied Mandarin to better accommodate her students.
"The language barrier was the toughest because I had no previous exposure to Mandarin," she says. "But rather than allow these obstacles to interfere with my mission, I enrolled in Mandarin courses at National Cheng Kung University. Shortly thereafter I was an intermediate speaker."
Odalis says the Rotary grant will support her long-term goal of starting a global education organization that promotes equality in education for low-income children.
After completing her studies at Queen's University Belfast, Odalis intends to return to the classroom, teaching students with a holistic approach that combines science, music and art with English language instruction.
"Better literacy means better education. Growing up in a low-income household where English was my second language, I directly relate to many who struggle to find access to quality education," she says.
"I was fortunate to be surrounded by dedicated individuals who paved the way for a life I could have imagined only in my dreams. I vow to use my education and hard work ethic to give back to the less fortunate to have their dreams become a reality," she says.
---
Shannon Cunningham
Doctorate, Educational Leadership
By Heather Noel
When Shannon Cunningham first took over as principal at Kirby Middle School in Wichita Falls, the school had been designated a failing school for the fourth year in a row by the Texas Education Agency.
She immediately got to work establishing a plan to raise the school's overall academic success. Then, the pandemic hit and her leadership focus changed. She still wanted kids to improve academically but ensuring Kirby's students had basic needs met - like food to eat - became a priority.
"It was definitely a community effort. I was so proud of my staff," Shannon says. "They were amazing. I don't have enough words to say about how they came together for the kids."
Likewise, collaboration and community have been crucial to her success as a student herself at UNT. Shannon returned to school about six years ago to pursue a doctoral degree in Educational Leadership through a joint program UNT had with Midwestern State University.
Shannon has dedicated her career to education from serving as a high school Spanish teacher and cross country, track and field coach to administrative roles in athletics and secondary schools. She had always wanted to further her own studies.
"I'm the first in my family to go to college at all, so going to college was a big deal," she says. "Being the first to get a doctoral degree is very important to me. I wanted to be a role model for my daughter, so she can see what we as women can do. If she wants to get a terminal degree, she can get that."
Shannon journeyed through the program with a cohort of other doctoral students, which gave her a built-in support system. Balancing her full-time role as a middle school principal and part-time doctoral student was challenging, but Shannon says along the way she received helpful encouragement and counsel from professors like Misty Sailors, chair of the Department of Teacher Education and Administration in the College of Education.
"She's amazing. She believed in me. She held me accountable, but worked with my pace knowing I was working at a difficult school and a highly political environment and balancing my family," Shannon says.
Through a mix of online, in-person and hybrid classes in both Wichita Falls and Denton, Shannon broadened her world view and gained leadership skills to help her become a better administrator.
"You see more of what's out there, globally, but then also the networking," Shannon says. "The ability to meet other people that you can connect with, learn from and ask questions of in your work life is critical."
---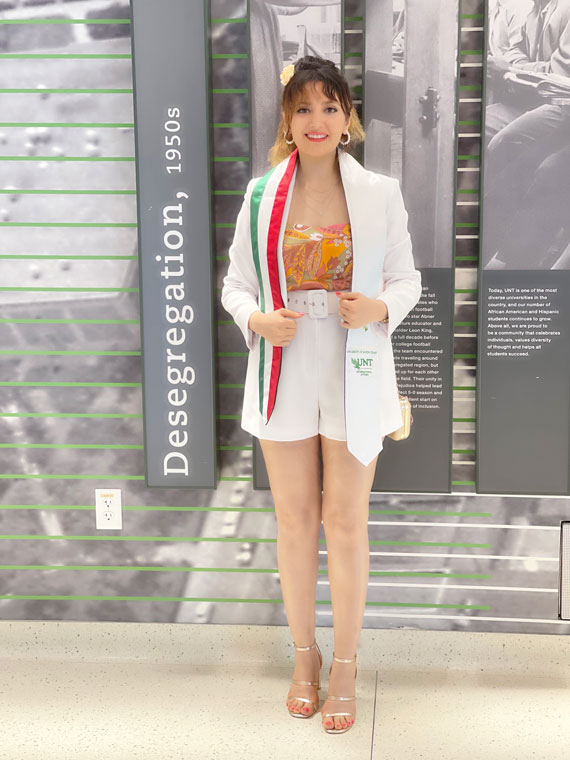 Sahar Behpour
Doctorate in Information Science
By Robyne Henry
Sahar Behpour has always had a desire for turning theories into applications and thoughts into actions. A Ph.D. student majoring in information science with a concentration in Data Science.
Beginning her academic career as a physics Ph.D. candidate in 2017, she encountered research problems that were purely theoretical.
"How can I contribute more to application-based problems, or the data driven and universal approaches to solve the real problems in different domains such as healthcare, legal, finance, and social media?" Sahar asked herself. This was the genesis of her passion for data science. So, she made the degree switch from physics to data science.
After taking a machine learning course with Mark Albert, assistant professor of biomedical engineering, Sahar realized her strong interest in developing data driven, robust and universal artificial intelligence models that can work across different domains and datasets.
Working with her supervisor, Albert, who also has a background in computational neuroscience and computer science, Sahar began to investigate the sensory information processing in the brain— especially visual information so the computer will be able to learn things and make decisions in a humanlike manner.
While studying the visual information processing in the brain, also known as efficient coding, Sahar wondered, "how can we use similar processes when making artificial neuron networks?" From this inquiry, Sahar chose her dissertation topic: weight initialization of convolutional neural networking using unsupervised machine learning.
With each research discovery and focus, it leads Sahar to her ultimate goal of becoming a leader in the artificial intelligence field. Sahar hopes to create different infostructures to analyze data and models to provide a diverse set of services for the greater community.
"My goal is to not just make a profit for my business," Sahar says, "but to be a resource for creating and improving science."
Her dreams were allowed to flourish at UNT through the nurturing nature of the staff and faculty who encouraged her and assured her that she will be successful in this field.
"When I first walked into the information science department, Sahar called her family and said, 'These people are so nice, I feel attached already!'"
As she gets closer to her goal, Sahar credits her accomplishments to her mentors and support system.
"Dr. Mark V. Albert taught me the fundamentals of machine learning and deep learning through his interactive and productive class and made me even more motivated to choose a dissertation topic in this direction. He showed me how to design and conduct a project from scratch while focusing on intuitions, writing succinctly, creating nice visualizations as part of any project, and finally delivering it at the right time. I have been greatly inspired by and benefited from his time management, professional communication, and leadership skills. Dr. Hawamdeh supported me throughout my whole Ph.D. journey. Dr. Paolo Grigolini constantly motivated me in research and making me more interested in science by sharing his in-depth knowledge every time I raised questions to him."
---